By Pat Harty
IOWA CITY, Iowa – The Iowa men's basketball team enters the Big Ten Tournament as a difficult read, and nearly impossibl to predict.
The Hawkeyes could get hot from 3-point range, stay hot from 3-point range for several days any maybe even win the tournament for the second year in a row.
Or they could be off target from 3-point range and lose to either Ohio State or Wisconsin on Thursday at the United Center in Chicago.
And while you could say that about most of the Big Ten teams during what has been a strange and unpredictable season, with Iowa it has even more significance because Iowa relies so heavily on the 3-point shot, and because Iowa prefers to play at fast pace and score a lot points to where sometimes it pays a price on defense.
Iowa finished the regular season 19-12 overall and 11-9 in the Big Ten, and is seeded fifth in the conference tournament.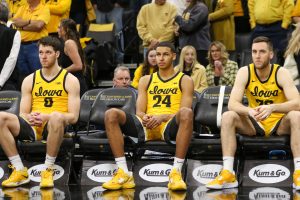 It had a chance to secure a two-seed and a double bye in the Big Ten Tournament, but lost to Nebraska 81-77 on Senior Day this past Sunday despite being a 10 ½ point favorite.
What seemed close to being a sure was anything but that as the Cornhuskers completed a season sweep over Iowa.
Iowa made 9-of-20 shots from 3-point range in the first half, and led 43-39 at the break, but then only made 3-of-17 threes in the second half and didn't make a basket in the final six minutes of the game.
The same Iowa team that swept Indiana and Rutgers, and that beat Illinois, Maryland, Michigan and Michigan State was also swept by Nebraska and Wisconsin, and lost to Eastern Illinois 92-83 in December at home.
"You look at the conference standings, and there's so many teams that are very close in terms of record," said Iowa coach Fran McCaffery. "Some teams maybe match up better with others, and sometimes you look at it doesn't make sense that they beat them twice and they lost to them twice.
"But that's what this league is. Sometimes, it comes down to you didn't make threes. Sometimes, it comes down to you didn't make free throws or had more turnovers than usual. Who knows."
Iowa's performance against Ohio State in two games this season is sort of symbolic of how the season has played out.
The Hawkeyes struggled on defense in the first game against Ohio State, losing 93-77 on Jan. 21 in Columbus, Ohio.
Fran McCaffery called his team's performance unacceptable after the Ohio State loss.
But then Iowa prevailed in the second game against the Buckeyes by a similar score as the first game, winning 92-75 on Feb. 16 at Carver-Hawkeye Arena
"This league is so good, and a lot of people say we're going to get 10 teams in," Fran McCaffery said of the NCAA Tournament. "Nobody wants to play 11, 12, 13, 14 in this league.
"I think everybody goes down there knowing that everybody has got a shot."
Most of the Iowa players know what it takes to win the Big Ten Tournament because they accomplished that last season by winning four games in four days.
However, each team, and each season is different.
Former All-America forward Keegan Murray was the driving force behind last season's team, while former point guard Jordan Bohannon was among the top 3-point shooters in the country.
Keegan Murray's twin brother, Kris Murray, is now the driving force behind the current team as he leads Iowa in scoring and rebounding with averages of 20.5 points per game and eight rebounds.
Kris Murray was a top reserve on last year's team, so his role will change significantly in this year's postseason tournament.
He was asked Tuesday if he has a different mindset heading into the Big Ten Tournament compared to last season.
"I think so, yeah, just knowing there's more eyes on me," Kris Murray said. "People are going to defend me differently every single game.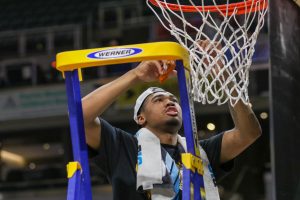 "So, my mindset is just stay aggressive. And when I'm having bad shooting days, just try to impact the game in different ways. I think that's something I've been working on a lot this year, just maybe getting a steal or a blocked shot here and there when my shot's not falling."
Fran McCaffery believes the success from last season's tournament run could provide a boost for the current team, even though the circumstances are different.
"I think that helps," Fran McCaffery said. "A lot of those guys not only went through it but performed well in that environment. So, I think we have an expectation they'll do the same."
Fran McCaffery was asked Tuesday what it takes to win four games in four days at the Big Ten Tournament.
"I think you've got to get really good performances from a lot of different people, which we did," he said. "You have to be mentally tough, because not only is it grueling physically, but you're processing scouting reports on a daily basis four times against four really good teams, against four really well-coached teams.
"It's a great challenge. It's a competitive challenge."
The question with the current Iowa team is which team will show up?
The one that crushed Indiana 90-68 in Bloomington on Feb, 28, or the one that lost to Nebraska on Senior Day last Sunday.
"We've had our ups and downs this year, but you have that in every single season," Kris Murray said. "There's games you going into thinking you're going to win and you end up losing. And there's games that might be a toss-up and you end up winning.
"So, I think that's just the season we've had this year. You've just got to fight, and we did that last year at the Big Ten Tournament. So, I think we've always been postseason ready. I think it's just about managing the game and just doing what we know how to do best."
Seniors Connor McCaffery and Filip Rebraca both played key roles for Iowa last season, and have even bigger roles this season.
The 6-foot-9 Rebraca was more of a role player last season whose main responsibilities were to play defense and rebound.
Rebraca has reached double digits in scoring a team-best 26 times this season. The Sombor, Serbia native is one of nine players nationally to average 13.5+ points, 7.5+ rebounds, 1+ blocks, while shooting 57 percent or better from the field.
Junior guard Tony Perkins also has become more of a scoring threat this season, while sophomore Payton Sandfort was named the Big Ten's Sixth Man of the Year this season.
Junior Ahron Ulis also has replaced Bohannon as the starting point guard.
"We understand that it's going to be difficult, but it's not un-doable, four games in four days, we did it last year," Rebraca said. "So, we've got to take care of our bodies. We know what it's going to take. It's going to take effort from every single player.
"So, it's not impossible. We've just got to put our minds to it first."
Iowa (19-12, 11-9) vs. Ohio State/Wisconsin winner
When: Thursday, 1:30 p.m.
What: 2023 Big Ten Tournament
Where: Chicago, (United Center)
TV: Big Ten Network
Radio: Hawkeye Radio Network