By Pat Harty
IOWA CITY, Iowa – This has been a rough few days for Kirk Ferentz and the Iowa football program.
The decision to pay a $4.175 settlement to end the discrimination lawsuit that had been filed by 12 former Iowa football players didn't sit well with Ferentz as he released a statement in which he blasted the decision to settle, and the process.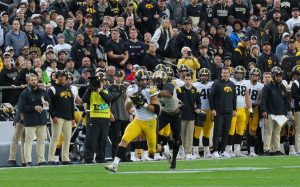 The Iowa football program is now back under the spotlight as national media have not surprisingly jumped on the story.
And that's a problem from a public relations standpoint.
But in the spirit of fairness, the bright side of Hawkeye football was also recently on full display at the NFL Combine, which was held from Feb. 28 to March 6 at Lucas Oil Stadium in Indianapolis.
Iowa was represented by five former players: senior linebacker Jack Campbell, senior defensive backs Riley Moss and Kaevon Merriweather, senior tight end Sam LaPorta and third-year sophomore defensive lineman Lukas Van Ness.
Moss and Merriweather are fifth-year seniors, while Campbell and LaPorta are true seniors.
All four seniors were multi-year starters at Iowa, led by Moss who started at least one game in each of the past five seasons and 39 0verall.
Van Ness, on the other hand, never started a game for Iowa, and yet, the Barrington, Illinois might be the first player from Iowa selected in the draft as he now projects as a first-round pick.
It's easy to see all five of the Hawkeyes that participated in the combine making NFL rosters next season.
Campbell was widely regarded as the best collegiate linebacker in the country this past season, and the Cedar Falls native has the 2022 Butkus Award to prove it.
He also reportedly tested well at the combine, as did his four former college teammates, at least for the most part.
But to fully appreciate what these five former Iowa players have in terms of NFL potential, it helps to look beyond just the 40 times, bench press reps and broad jump.
Of course, those physical skills matter or the NFL wouldn't have them as part of its evaluation and testing process.
They just don't tell the whole story about a player's potential, and that has been especially true about Iowa players under Kirk Ferentz, who has been the Iowa head coach since 1999.
As great as Campbell, Moss, Merriweather, LaPorta and Van Ness were as Hawkeyes, few outside of the Iowa program, had reason to expect it based on the recruiting process.
Van Ness was the most heavily recruited among the five with reportedly at least 31 scholarship offers, but he wasn't offered by any of the blue blood programs, and many of his offers can from mid-level programs, including from most of the teams in the Mid-American Conference.
Van Ness was ranked as a 3-star recruit by Rivals, as were Campbell and LaPorta, while Moss and Merriweather were 2-star recruits.
The fact that Campbell reportedly only had four scholarship offers from Iowa, Iowa State, Minnesota and Northern Iowa is hard to believe based on what he developed into as a Hawkeye, and also shows that Kirk Ferentz's staff excels at developing players.
Van Ness's rapid ascent also speaks well about Iowa's ability to develop players.
He was redshirted as a true freshman in 2020, and now after just two years of competition, Van Ness has developed into a potential first-round pick without having started a game in college.
That says a lot about his unselfishness and team-first mentality, and about Iowa's way of developing players.
LaPorta, who finished his Iowa career with 153 catches and 1,786 receiving yards, had at least 11 scholarship offers according to Rivals, but Iowa was his only Power Five offer.
He now ranks first in receptions and second in career receiving yards amongst Iowa tight ends.
LaPorta grew up in Highland, Illinois and played wide receiver in high school, so it would've been easy to overlook LaPorta as a tight end recruit.
But that's even more reason to praise the Iowa coaches for seeing talent and potential where most others didn't see it.
That's also true with Moss and Merriweather as Iowa was the only Power Five school to offer either of them.
Moss was known more for being a state-champion hurdler at Ankeny High School, while Merriweather had more success as a basketball player in high school in Michigan.
But again, the Iowa football coaches saw potential where others didn't, and both sides have since been rewarded for their vision and hard work.
It's easy to overlook this part of Hawkeye football with everything else that's going on, and with the Iowa offense having performed so horribly this past season despite LaPorta's contributions.
But Iowa also has a 43-18 record since the start of the 2018 season, including two 10-win seasons, and Iowa also won the Big Ten West Division in 2021.
So, the foundation under Kirk Ferentz still is strong and sturdy in many ways, and that was on full display at the NFL Combine.
4.64 (unofficial) for @lukas_vanness 💨

📺: @nflnetwork #Hawkeyes | #NFLCombine pic.twitter.com/Oa6WlhnQ0B

— Hawkeye Football (@HawkeyeFootball) March 2, 2023