By Pat Harty
IOWA CITY, Iowa – Besides the mad scramble for the ball at the end of Iowa's loss to Ohio State in the Big Ten Tournament, and the drive home in which it snowed unmercifully hard most of the way, one other thing stood out about the 30-hour road trip to Chicago:
The look of devastation on Filip Rebraca's face as he met with the media following Iowa's 73-69 loss to Ohio State this past Thursday at the United Center in Chicago.
Rebraca was accompanied to the post-game interview by teammates Kris Murray and Tony Perkins, along with Iowa head coach Fran McCaffery.
All four were seated at the press table, and while they were all sad and disappointed about losing, the agony of defeat was splashed all over Rebraca's face.
He could barely bring himself to even look up at the room filled with reporters because he was so gutted emotionally from the loss.
A reporter tried to look on the bright side by reminding Rebraca that Iowa would now have more time to rest and prepare for the NCAA Tournament, but that was little consolation.
"Yeah, I guess it's a plus that we're going to get more rest this year, but we never want that," Rebraca said. "We want to be playing for a championship on Sunday. Yeah, it just didn't go our way."
Iowa (19-13) will learn its destination and its opponent in the NCAA Tournament when the 68-team field is announced late Sunday afternoon.
The Big Dance is now all that is left for Rebraca as a Hawkeye, and that's sad because he has been a pleasure to cover, and a great representative of the Iowa program.
His hustle and toughness, his grit and determination, and his team-first mentality is everything a coach should want in a player, along with his skill set, of course.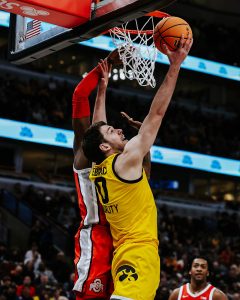 Fran McCaffery hit the transfer portal jackpot with Filip Rebraca, and the way in which Rebraca's story has played out is how the portal is supposed to work.
Fans from the University of North Dakota probably would disagree since they were on the losing side of Rebraca's decision to transfer.
But Rebraca also gave it everything he had physically and emotionally while playing for three seasons at North Dakota, and for that, its fans should forever be grateful.
Rebraca wanted a bigger challenge on a bigger stage while he still had time left in college, and he took a chance, and a leap of faith, on Fran McCaffery and the Iowa program.
And it's worked out beautifully as Rebraca has checked all the boxes, on and off the court.
"I can't imagine a better fit for a guy who transferred than Filip Rebraca, not only in terms of arriving when we really needed what he brought to the table, but how he fits with our style of play, with his teammates in this league," Fran McCaffery said. "Just a guy who is the — he personifies class in everything that he does, his approach. He's been zero maintenance from the day he got here, incredibly hard worker, and toughest guy in the building. He's just one tough guy and just keeps getting better. I think that's what's fun as a coach to watch.
"He came here with a desire to prove that he could play at the highest level collegiately, and he certainly has done that. I think he's an all-league player."
Fran McCaffery said those comments about Rebraca before it was announced that Rebraca had made third-team All-Big Ten.
Rebraca accepted a support role last season in which he was asked to mostly play defense and rebound, and he has since blossomed into perhaps the most consistent player on the team this season.
Rebraca has scored in double figures a team best 27 times, including in this past Thursday's loss in the Big Ten Tournament when he led Iowa with 20 points and also had seven rebounds.
Rebraca did everything within his power to help Iowa win, but it just wasn't meant to be.
Sports can bring incredible joy, but also gut-wrenching pain as was shown on Rebraca's face during the press conference at the United Center in Chicago.
His next loss will be his last as a Hawkeye, so the longer Iowa can avoid losing, the longer Rebraca gets to be a Hawkeye.
A kid who grew up halfway across the world in Sombor, Serbia, and who played more than half of his college career for another school, is now a young man that will forever be a Hawkeye.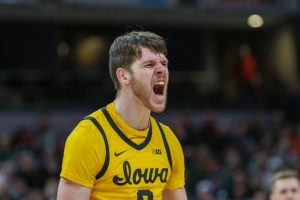 Rebraca faced the daunting task of having to replace 2021 National Player of the Year Luka Garza in the post for Iowa, and Rebraca has handled it about as well as could be expected under the circumstances.
He isn't close to being as dominant offensively as Garza was in the post.
But that was never the expectation for Rebraca because players such as Garza are rare.
The hope was that the 6-foot-9 Rebraca could bring stability and consistency in the post, and he has certainly brought that, and then some.
The amount of improvement that Rebraca has made from last season to this season is a tribute to him, and to his coaches.
He was mature enough to accept a support role last season, and talented enough to be a standout player this season.
Kris Murray is widely recognized as Iowa's best player as a multi-talented 6-8 junior forward, and deservedly so.
Murray also projects to go in the first round of the 2023 NBA draft, assuming he declares after this season, which is almost certain to happen.
Rebraca's future is more uncertain, but it's easy to see him playing professionally somewhere, maybe even back in his home country where his father, former NBA center Zeljko Rebraca, is President of Vojvodini, a professional basketball club in Serbia.
Wherever Filip Rebraca ends up, he will be a positive addition on and off the court.
He will take great pride in working hard every day in his pursuit of success, both individually, and from a team standpoint.
But for now, Rebraca's future can wait because he still has at least one more game to play as a Hawkeye.
He didn't have a chance to really celebrate on Senior Day this past Sunday because Iowa lost to Nebraska.
Rebraca still was feeling the effects from the loss when he met with the media two days later.
"It sucks. It was my last game here at Carver and that's not I wanted to go out," Rebraca said. "This place means a lot to me. And losing that fial game here really hurt, and still does."
Iowa has since lost to Ohio State in the Big Ten Tournament since Rebraca made those comments, so, this has been a tough week for him and for his teammates and coaches.
Sunday will bring new hope and optimism, however, as Iowa will be invited to the NCAA Tournament for the third straight season.
Filip Rebraca still has a chance to wear the Iowa jersey at least one more time, and wear it with class, and with a purpose, he will.