By Susan Harman
IOWA CITY, Iowa – The Iowa women's basketball team has been showered with unprecedented attendance this season, and this weekend will be no different. The NCAA Tournament games Friday and Sunday sold out almost immediately.
It's not something the team takes lightly.
"Playing in Carver is something very special, and that's why we're glad that we get one and hopefully two more opportunities to do so," Iowa coach Lisa Bluder said. "I know for our seniors, Monika and McKenna, this is really special. This will be the last weekend they get to play in Carver-Hawkeye Arena.
"Senior Day playing Indiana they didn't have that pressure; now they're going to be facing that a little bit. But it is so special to know that your arena sold out faster than any other in the United States, and that's how important women's basketball is to the state of Iowa."
Czinano, who took a fifth year under the NCAA's COVID-19 policy said she's tried to avoid thinking about "the last time" she'll do things as the season rolled on. She said she's been locked in as much this season as any before. And yet…
"I think having this opportunity to have two more home games with me being a senior is something I'll never overlook," Monika Czinano said. "It's really special. I'm one of the few seniors who get to do that."
Kate Martin, who has another super senior season left, said the overwhelming support the team has received is not just special but can be an aid to performance.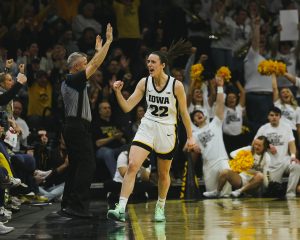 "I think maybe we've gotten kind of used to our fans being as incredible as they are," she said. "I think it just shows the excitement in our community about women's basketball, and that's the excitement that it could be like that all around the country. But one of the reasons I came here and I'm sure (Caitlin Clark and Czinano) would say the same is the support for this team and this program that Coach Bluder has built here is unreal.
"So you never take for granted getting to run out of the tunnel to a court with 15,000 people screaming for you. And we need to use it to our advantage. And I think that helped in our run in the Big Ten Tournament. It was basically a crowd all for the Hawkeyes. It certainly kind of gives you a little edge there, so being able to use it is super important."
.
*Who's got tickets? Georgia coach Katie Abrahamson-Henderson grew up in Cedar Rapids and played college basketball at Georgia and Iowa.
"I think my family is super excited," she said about returning to her home state. "I think (the sellout) is awesome. My sister called and she's like telling me 'I'm not going to get tickets.' I'm like, 'Are you OK? Your sister is the head coach of Georgia; you're getting tickets.'"
*Ouch.  Florida State will be without two key players as the NCAA Tournament begins at Carver-Hawkeye Arena.
The 7th-seeded Seminoles play 10 seed Georgia in a first-round game ahead of Iowa's game against Southeastern Louisiana. But they will be without leading scorer Ta'Niya Latson, an honorable mention All-American as a freshman. Latson was named the ACC freshman of the year after averaging 21.9 points per game. She is also one of the 15 finalists for the Wooden Award for player of the year.
"It was something that just cropped up at the ACC Tournament, but she was day-to-day," FSU coach Brooke Wyckoff said. "But at this point we, our medical team, and our group as a whole along with Ta'Niya just decided that she wouldn't be ready for this tournament."
Wyckoff would not specify the nature of Latson's injury or ailment.
Also out is guard O'Mariah Gordon, a quick guard who played in place of Latson at the ACC tournament. Both players are quick guards who can also shoot the three.
"It will be challenging but we do feel pretty confident going into the game," forward Makayla Timpson said. "Obviously removing the scoring guard and our point guard, but we still have other people that are going to have to step up.
Wyckoff has dealt with a small roster throughout the year. They will play with eight from here on out.
"Stylistically and our approach to the game, which is to get out and run, to attack the basket, to find open 3-point shooters, that won't change," she said. "And always for us, to be able to win an NCAA Tournament game, it's going to be about the defensive end; it's going to be about defending Georgia and finishing with a rebound so we can get out and run."
*Bulldog mentality. Georgia players Diamond Battles and Javyn Nichols said they're not worried about FSU's style or whether they'll try to exploit FSU's short bench. They said they'll just play 'Georgia basketball.' They were asked what that meant to them."Just irritants, gritty, passionate defenders, relentless," Battle said.
"Relentless, really relentless, doesn't back down, runs toward the fight instead of away from it," Nichols said. "And just ready to push forward the legacy. I think we have a great foundation of people who came before us and we were blessed with the opportunity to continue it."
Wyckoff said the Bulldogs are a representative SEC team.
"They are a big, strong, powerful, what you would call a typical SEC team," she said. "Two big posts, looking to pound the ball inside, looking to get the ball inside off penetration."
"It's going to be pretty physical (Friday)," FSU's 6-2 forward Makayla Timpson said. "We're going to have to finish through contact."