By Pat Harty
IOWA CITY, Iowa – Every time McKenna Warnock meets somebody for the first time, or sees somebody up close, the first thing she notices without fail is the person's teeth.
She isn't judging or looking for flaws.
She's just curious, and has been for a long time.
In fact, Warnock is so curious about teeth, and about dentistry, that she is willing to give up one more season with a team, and with a group of players, coaches and support staff that she absolutely adores, and will forever.
A senior forward on the highly popular and hugely successful Iowa women's basketball team, Warnock will bypass her free Covid season to attend dental school.
The Madison, Wisconsin native agonized over the decision because she has cherished her time as a Hawkeye and has been a key contributor pretty from the day she arrived on campus.
Warnock is one of just eight Iowa women's players to amass more than 1,000 points and 640 rebounds in a career, and she will make her 90th career start when No. 2 seed Iowa faces No. 15 seed Southeastern Louisiana in an NCAA Tournament first-round game on Friday at a sold out Carver-Hawkeye Arena.
So, she is giving up a lot to pursue another dream of being a dentist.
"It will be so hard. It's just a cool experience," Warnock said Thursday. "It was one of the most difficult decisions, I think, for sure.
"And every day, I still kind of go back and forth. But I'm happy with my decision and the coaches have really been very supportive of my decision. So, that helps."
Warnock took a lot time before finally making the decision to not come back next season. She weighed the pros and cons, and ultimately decided that it was time to chase another dream.
"I probably didn't make the decision until about a week before I literally had to," she said.
Warnock didn't just wake up one day and decide that she wanted to be a dentist.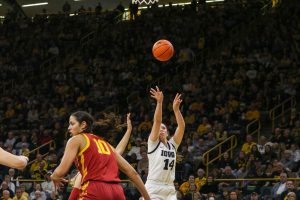 Multiple factors have led her down this path, including her older sister, who is currently in her last year of residency in Seattle as she pursues a career in medicine.
Warnock also wore braces as a kid, and she was so impressed with how her orthodontist treated her, and cared for her.
"I really like orthodontics specifically," Warnock said. "I had an orthodontist growing up and I had an amazing experience with him. And then I also just think dentistry is very awesome because we're able to spend more time with patients more so than being a doctor."
Warnock knew she wanted to do something in the medical field when she enrolled at the University of Iowa in the fall of 2019.
She eventually gravitated towards dentistry, and more specifically orthodontics.
"I thought it was going to be some sort of surgery in the medical field, specifically," Warnock said. "But then I really liked dentistry."
Warnock hopes to work with kids in grade school through high school during those critical years when teeth are developing.
"That would be like braces, and stuff like that," Warnock said. "But I would like to do anything, honestly, whatever I get into it."
As for when she meets somebody for the first time, Warnock said she is immediately drawn to a person's teeth.
She just can't help it.
It's how her mind works these days.
"I feel like now it's something I kind of notice a lot because I've done a lot of research and I've also done a lot of shadowing" Warnock said. "So, I've been able to do some really cool stuff, which is awesome."
Warnock was sort of put on the spot Thursday when asked who has the best teeth on the Iowa team.
She thought briefly before saying senior guard Kate Martin.
"She has like larger teeth, but they're like perfect," Warnock said of Martin. "And I think she really likes her teeth and takes care of them."
Martin was flattered when told that Warnock had picked her for having the best teeth on the team.
"I'm like really happy that she said that," Martin said with a big, toothy smile. "It's kind of funny because a few people have commented on Iowa women's basketball players having really good smiles, and that just makes me really happy that people will notice that."
Martin is also happy for Warnock's decision to pursue a career in dentistry, but Martin has mixed emotions about carrying on without her teammate and friend.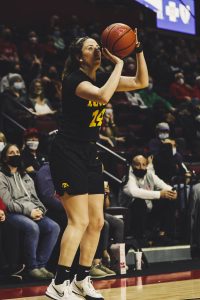 Martin and fellow senior Gabbie Marshall both have decided to use their free Covid year, and if Warnock would've made the same decision, Iowa would have four starters returning next season, including All-America guard Caitlin Clark.
"It's going to be really hard to see here leave," Martin said. "She's been a huge piece to our puzzle the last four years. And she's not only a great teammate, but a great friend the last four years. I'm really excited for her future and her wanting to go to dental school. Her being ambitious like that really, sometimes, that's unheard of at the college level. You see people just trying to get through and get by, but she has really taken her school seriously and she's going to be great dentist someday.
"So, I'm really excited for her more than anything, even though I'll be sad that she's gone."
Iowa Associate Head Coach Jan Jensen also has mixed emotions about Warnock choosing to move on, but Jensen also understands Warnock's decision under the circumstances.
Unlike on the men's side, there isn't a chance to be a multi-millionaire in women's basketball, except for maybe in rare cases.
The hope of playing in the NBA is a driving force in men's collegiate basketball, but with women's basketball, it's different.
"I think that's kind of what that thinking is on the men's side because they can leave for the pros and they're making seven figures, and if you're really good, you can make high seven figures," Jensen said. "So, we don't have that as women."
And while the women's game has grown significantly in popularity, the focus on academics and using a college degree to better yourself in life still is the primary focus.
"We're so proud of the gaining of popularity, but when we recruit them we want them to know the first goals that we want to help you achieve are academic, and a lot of our kids coming in are high achievers," Jensen said. "Every kid has a different story. Some kids, they want to play seven years if they could. Some kids are so driven academically that after four years they want to move on to like dental school or med school.
"So, you just support every way that shapes out."
Warnock's contributions on the court often get overlooked on a team that features arguably the best player in college basketball in Caitlin Clark, three-time All-Big Ten center Monika Czinano, and Kate Martin, who has been called the glue to the team.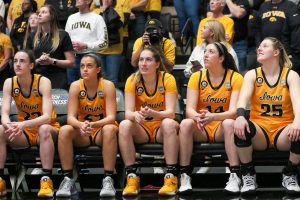 But those closest to the 6-foot-1 Warnock, her teammates and coaches, know very well just how valuable she is to the team.
"She's fantastic," Jensen said. "I mean she's Miss Versatile. She can get you a rebound. She can shoot that three. She can drive it. She can defend you. She just does all the things that don't always show up. She's just really that big forward that causes problems and she's had really big moments.
"If everybody gets focused on she can really come through for you. She's just low maintenance when it comes to that. She just does her job and great teams need people to do their jobs."
Iowa's success on the court, which includes winning the Big Ten Tournament in back-to-back seasons, gets most of the attention, and is why Carver-Hawkeye Arena will be packed with fans on Friday.
But the players are also just as imprssive and accomplished off the court, especially when it comes to their academic achievements.
Clark was named an Academic All-American just this week and is carrying close to a 4.0 GPA this semester, as Jensen mentioned several times on Thursday.
Czinano in addition to being a star center, also stars in the classroom and plans to pursue a career in medicine.
Up and down the Iowa roster are players that epitomize what it means to be a student-athlete.
Jensen listed nearly half of the roster when talking about the players that excel in the classroom.
"They're all top level," Jensen said. "They are not skimming by, and I love that they work. It is real impressive. We can't be anymore proud of them."
Martin has seen upclose over the last four years just how determined and focused Warnock is about her academics, and about preparing for life after basketball.
No matter the place or circumstance, Warnock will always find time to study.
"On road trips. On the bus. On the plane. In the locker room sometimes," Martin said. "You just really have to have good time management when you're a division one athlete and you have to balance school and work and life. And it's really hard, so you have to learn."
Warnock already has taken the dental addmission test once, and will take it again at the end of April just to see if she can do better.
"I might as well," Warnock said.
She will then start applying to dental schools and should find out in September where her future will take her.
Warnock is cherishing every moment she has left as a member of the Iowa team, but she also doesn't want to put too much pressure on herself.
She knows her next loss will be her last as a Hawkeye, and she knows that there are no guarantees in the NCAA Tournament as Iowa lost to underdog Creighton in the second round at home last season.
"I just kind of take it day by day and not trying to put too much pressure," Warnock said. "Just do what I've done in the past and then just kind of carrying it to now. I know that right now is a special time, but I don't think it has to be anything different."
Warnock credits the culture within the Iowa women's basketball program for her success, on and off the court, and for the team's success.
Iowa head coach Lisa Bluder, with help from her assistants, has built a culture in which the players like and respect each other. The players have great chemistry on and off the court.
"It's amazing. I think Iowa has always had such a great culture," Warnock said. "I think if you asked any of the teammates of mine they'll say that Iowa itself just has a great culture. And I think the coaches are a huge part of that, of creating that and letting it last through the team that they've put together.
"They find great girls that are going to be great with each other and great people on the court and off the court. And so, I love that and I'm really happy that I was able to be a part of that."