By Susan Harman
IOWA CITY, Iowa – Amiya Evans has to wait her turn to break through the talented, experience-laden Georgia women's basketball lineup, but it clearly hasn't deterred her. Evans, a 6-foot-2 freshman for the Bulldogs was a four-star recruit and is the daughter of former Iowa and NBA star Reggie Evans.
Her bubbly personality is reminiscent of her father's outgoing, bigger-than-life personality. The only time she frowned was in talking about the Iowa weather.
"I'm not going to lie, compared to Florida (her home state) it's freezing," she said. "Even now it's springtime y'all and it's still cold."
Reggie Evans played two seasons at Iowa. In his first season, 2000-01, he led the Big Ten in scoring. He totaled 1,054 points in just two seasons. He averaged more than 11 rebounds in each season.
Amiya said her father, who was in the stands and was recognized by the public address announcer on Friday, has told her that his two years at Iowa made him what he is.
"He had an amazing career here, and like he said to me the biggest thing that he took away is the family atmosphere and environment," Amiya Evans said. "And just being here, he's coming back 20 years later, it still shows people coming up to him asking for pictures and things like that. He loves Iowa, and he's been telling me that since I was a little girl."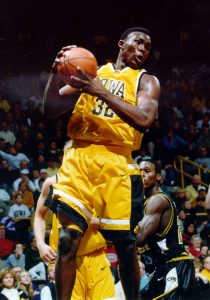 Reggie was a key coach for his daughter as she developed into a prospect.
"He's taught me that the game is 90 percent mental; he's always given me advice because he's been through it," Amiya said. "All that experience and knowledge he has he just pours into me. So I feel like that separates him from a lot of the people that have also trained me. That's what helped me become the player I am because the game is about your mentality, how you're going to go about it in the right, positive aspects."
Amiya has played in 12 games and has been on the floor for 53 minutes. It's a process.
She followed coach Katie Abrahamson-Henderson from Central Florida, where she had just committed.
"It's the family atmosphere," she said. "I feel that if I'm having a bad day or a good day, my coaches are going to be there for me. This year they've definitely demonstrated that. Now that I'm here I just love Georgia."
*Georgia's extreme makeover.  When Abrahamson-Henderson left Central Florida to take the Georgia position three players came with her. The rest of the roster she had to go find or work to retain.
"It's been a crazy ride," she said. "I've inherited other programs where I really had to rebuild them, but Georgia has been a reload. And they are different because of the (transfer) portal."
Trying to meld 12 new players, all of whom had been coached elsewhere with differing philosophies, into a cohesive group with her UCF holdovers was a task worthy of a PH.D in psychology. Five Bulldogs stayed put.
Abrahamson-Henderson credited her coaching staff, most of whom have been with her for several years and some who played for her, for easing the transition. She said consistency in approach and philosophy was key.
"I think everybody bought in," she said. "The best example is (6-2 holdover senior) Javyn (Nicholson). She is a completely different player this year and has bought in right away."
"It was different," Georgia super senior Diamond Battles said. "A lot of different cultures, and a couple of us came from UCF to Georgia and some transferred in. But I think the leadership on our team was just very, very great this year, and everybody bought into what Coach Abe had to say and the captains that we chose.
"I think that as the season went on everybody just had like a light-bulb moment. Like, 'OK this is actually working.'"