By Susan Harman
IOWA CITY, Iowa – On Saturday they talked the talk. On Sunday they walked the walk.
The Iowa women's basketball team calmly and quietly assured everyone that this group was equipped mentally and physically to take on a big, scary SEC team like Georgia and go toe to toe. And they did just that.
Iowa won the crucial final two minutes and is on to the Sweet 16 in Seattle after a hard-fought 74-68 victory over Georgia before 14,382 elated fans. Iowa will play the winner of the game between Duke and Colorado.
"I think we've got some veterans on this team, and we know how hard it is to get to this point," senior Kate Martin said. "So whenever you're in that moment you just try and cherish it, and you want to capitalize on it."
The final two minutes were nerve-wracking, befitting a game that was close all the way. Iowa's 66-59 lead with five minutes left dwindled to 68-66 with 2:17 left. Iowa missed three shots in two possessions and Georgia had two chances to tie.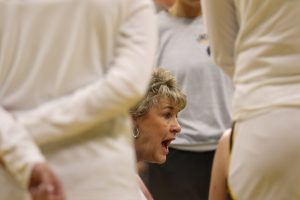 But Gabbie Marshall swiped at the ball along the sideline, and Georgia's Alisha Lewis lost it out of bounds.  On the next possession Diamond Battles turned it over by driving and trying to pass back outside. Caitlin Clark stole the wild pass and 25 seconds later drove down the right side of the lane, pulled up and softly banked in the shot to boost the lead to 70-66 with 42 seconds left.
"I just dribbled it out," Clark said of the shot clock. "And we went four-flat. So basically I was going to take the girl to the hole, and luckily I beat her and got a shot off and made it, and it became a two-possession game."
"Last time we ran that play McKenna (Warnock) was open for a layup underneath," Iowa coach Lisa Bluder said. "It was going to be one or the other. (Clark) was going to get it or one of our bigs was going to get it."
It's hard to overstate how critical that basket was.
The lead was still precarious, but Georgia turned the ball over again when Martin batted a pass into the air and Monika Czinano leaped and snatched it out of the air.
"I just think we were moving hard in our zone," Czinano said. "Then you have the opportunity to get tips on the ball like at the end where (Martin) got that great tip that I was able to secure."
Iowa took timeout with 25 seconds to go. Battles stole the inbounds pass and raced to the other end chased by Gabbie Marshall. Battles missed the breakneck layup that would have cut the lead to two, and Warnock grabbed the rebound with 15 seconds left.
"I thought we came down and were really tough at the end of the game," Clark said.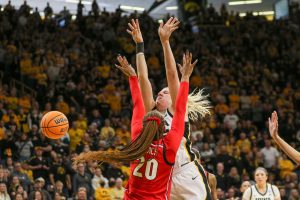 Georgia never got the ball back. A personal foul and two intentional fouls, one where Marshall got smacked in the nose, resulted in four free throws by Clark. That was it.
"I just think we were very level-headed in the fourth quarter, not to say we weren't in the other quarters," Czinano said. "But it just felt like even when that time came, there was never any doubt. Everybody was just very composed."
"We had a good game plan and we were sticking to it," Georgia senior Javyn Nicholson said. "This is March Madness though. There's going to be plays where tough players make tough shots. And that's really how it went."
The Hawkeyes had four players in double figures. Clark had 22 points, 12 assists and played all 40 minutes; Czinano had 20 points and nine rebounds; Warnock had 14 points and eight rebounds; and Marshall had 15 points on five 3-pointers.
Hannah Stuelke hurt her ankle in Saturday's practice and wasn't available. Molly Davis was hurt early in the game when a Georgia player fell on her legs fighting for a loose ball. The five starters all played a minimum of 37 minutes.
Battles led the Bulldogs with 21 points.
The game had runs by both teams. Except for a 10-point lead by Iowa early in the second quarter it remained a one- or two-possession game the whole way.
Iowa was at its most efficient when Georgia wasn't able to set up its zone after a made basket. That enabled Iowa to push the ball and get some open shots. That was crucial because it was extremely difficult to feed the post. Many of Iowa's 17 turnovers came when the high-post passer tried a bounce pass or lob. The Bulldogs got their paws on just about every pass in the paint.
"They are very good at (their zone)," Bluder said. "And they are long, and they are quick, and they do a great job of covering space."
"They were doing a great job denying," Czinano said. "They left the high post open, so it was a really awkward way to go about it. Layups and 3-pointers are what people are going for, so they leave that spot open. It's a close pass to try to get it into the post, but at the same time the guards are spaced out on the outside. They do a great job with it."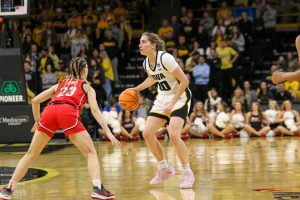 Martin and Warnock were the principal high-post victims of Georgia's octopus-like defense.
"Because you're in there they just come at you," Martin said. "You want to square up, and you can't really see what's going on behind you, and so they come collapsing, and they're very strong, very physical, very long. So you're trying to make the pass and trying to take your time in there, but you don't want to keep it for too long because you're being pestered. You're also trying to make all the reads and get it into Monika."
And you have a split second to decide where to go with the pass.
Iowa shot well in the first half but the fourth quarter was a struggle (4-for-13). But really, the whole game was a mosh pit just trying to find a bit of room to launch a shot. Still Iowa finished shooting 45 percent from the field.
"We showed that even when our offense isn't going well we can find a way," Czinano said.
Oddly enough Iowa outscored Georgia in the paint, but Georgia had eight more second-chance points.
"It's only going to get harder, and teams are going to get better from here," Marshall said. "We know that. We're just going to have the same mentality and take it game by game. And I think we're ready. We're excited. And obviously it's really special that we get to go to the Sweet 16."
These Two 💛🖤@MCzinano x @MckennaWarnock #Hawkeyes pic.twitter.com/7JaOkfKovB

— Iowa Women's Basketball (@IowaWBB) March 20, 2023