By Pat Harty
IOWA CITY, Iowa – As Tom Izzo prepares for yet another trip to the NCAA Sweet 16 with his Michigan State men's basketball team, I'm reminded of a funny story involving myself and the legendary head coach.
Some of the details are fuzzy at this point, and honestly, I had forgotten what I'm about to share until one of my friends/colleagues reminded me about the time I couldn't figure out how to exit from the Breslin Center in East Lansing, Michigan.
It was approximately two decades ago when I still worked for the Iowa City Press-Citizen and was in East Lansing to cover a men's basketball game.
I remember having computer problems that caused me to have to dictate my articles to the copy desk in Iowa City.
By the time I had finished dictating my articles to an unfortunate person in the Press-Citizen office, the Breslin Center was pretty much empty and shutdown.
It was strange seeing the Breslin Center empty and mostly quiet because I was used to always seeing it packed and filled with energy and emotion.
I sat near courtside during the game, and not far from the Michigan State student section, which is called the Izzone, and is one of the best student sections in college basketball.
By the time I finished dictating my two articles, the students were long gone, as were all the other media members that had covered the game.
I packed all my belongings, including the dysfunctional computer, walked up a flight of stairs and headed for the same door that I had used to enter the Breslin Center.
Unfortunately, it was locked, and I would soon find out that all the doors that I tried were locked.
This was before I had a cell phone, so I couldn't call for help.
I remember thinking, good grief, I'm stuck in the Breslin Center. How embarrassing.
Wait until my friends and colleagues hear about this.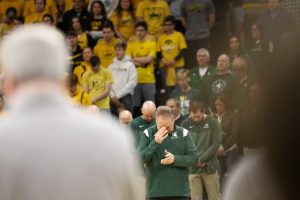 But then I stopped feeling sorry for myself, and started thinking of an exit strategy.
Unlike Carver-Hawkeye Arena where I know the lay of the land, my knowledge of the Breslin Center is very limited.
I can find the court, the press room, and a restroom, but that's about it.
However, the press room was empty when I went looking for help.
And why wouldn't it be since the game had ended several hours ago?
I was on my own, lost, confused and frustrated in the Breslin Center.
My only hope was to listen for any sign of life.
Maybe I would be fortunate enough to cross paths with somebody in a cleaning crew, or a concession stand worker, but even they were gone at this point.
I felt like Tom Hanks' character in the movie Castaway, helpless, desperate and alone.
But I refused to give up and kept listening for any sounds of life.
I tried several hallways and walked through part of the concourse, but I found and heard nothing.
So, I just kept looking and listening, until finally, I heard a voice, a familiar voice.
It was Tom Izzo.
He luckily had just entered the same hallway I was walking through, and of course, he was surprised to see me.
I think it was near his office, but I wasn't for sure.
After explaining my predicament, Izzo smiled and chuckled and then said follow me.
We made small talk as he led me to a door that would be my pathway to freedom.
He was in a good mood because his team had defeated Iowa that day, and it isn't every day that a member of the visiting media gets locked in the Breslin Center.
I thanked coach Izzo for showing me the way out, and I remember thinking that he would have a great story to tell his assistant coaches about some knucklehead from the Iowa media that was wandering the Breslin Center looking for a way to leave.
Izzo was on the verge of becoming a coaching legend at time.
I can't remember the exact year this happened, but it came after Izzo had led Michigan State to the national title in 2000.
Because I remember thinking the same guy who had led Michigan State to a national title just recently is now leading me out of the Breslin Center.
How wild is that?
Izzo has since solidified his legend and now ranks as one of the greatest coaches in the history of college basketball.
Michigan State is the only Big Ten team to advance to Sweet 16 this season, and much of the credit goes to Izzo for knowing how to win one-and-done games in March.
His current team is far from being one of his best Michigan State teams, especially on offense.
But it's still alive in the Big Dance where anything is possible, especially with Tom Izzo leading the way.