By Pat Harty
IOWA CITY, Iowa – There wasn't much that Kirk Ferentz said during his press conference on Wednesday that raised eyebrows or really made you think.
It's what he didn't say that spoke the loudest.
Ferentz made it abundantly clear that he has moved on from the off-the-field drama that has hovered over the Iowa football program.
He was asked about the recent settlement in which the University of Iowa agreed pay $4.175 million to 12 former Iowa football players that had filed a discrimination lawsuit, and what he sees as the next step for his program.
"I think that's been resolved," Kirk Ferentz said. "Nothing more I can say about it. Our focus has been on what's in front of us, and I think we're in a really good spot right now.
"Our plan is to stay vigilant in every area of our program."
Ferentz was asked about the statement he made in response to the settlement in which he disagreed with the decision to settle. He also said in his statement that he believes the lawsuit would have been dismissed if it had gone to trial.
Ferentz was asked Wednesday why he felt the lawsuit would have been dismissed.
"That's my opinion," Kirk Ferentz said. "I was very involved in it. Worked closely with the legal experts on the thing. That's my opinion. That's why I stated it. It's been resolved. There's not much more I can say."
Ferentz was then asked about the performance objectives that were recently added to the contract of Iowa offensive coordinator Brian Ferentz, who is Kirk Ferentz's son, and if he agreed with how that process was handled.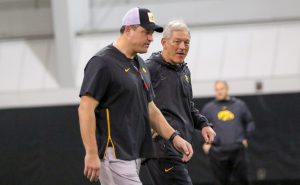 "That was really between Gary and Brian, that arrangement," Kirk Ferentz said of Iowa Athletic Director Gary Barta, to whom Brian Ferentz reports because of nepotism laws. "Gary supervises Brian for obvious reasons.
"That's really the same thing. It's in the books. We're moving forward. That is not something we're thinking about. We're thinking about our whole football team having a great season."
Kirk Ferentz was then asked if he felt the lines of communication were where they needed to be during the negotiation process that led to the settlement.
"It really doesn't matter what I think," Kirk Ferentz said. "The matter's resolved and we're moving forward."
Kirk Ferentz was also asked if he had a response to the lawmakers who recently said that Gary Barta should be fired for how this most recent settlement was handled.
"I really don't," Kirk Ferentz said. "I'm only thinking about this season and this team."
This most recent settlement is the fourth discrimination lawsuit that has been settled by the university agreeing to pay a significant amount of money during Barta's time as athletic director dating back to 2006.
It hardly came as a surprise that Kirk Ferentz declined to comment on the settlement, or about the performance objectives added to his son's contract.
It is hard to believe, however, that Kirk Ferentz played no role whatsoever in the negotiations between Barta and Brian Ferentz.
His no comment about the lawmakers wanting Barta to be fired probably is what stood out the most in Wednesday's press conference because Ferentz had a chance to defend his boss, and his biggest supporter, but he refused to do so.
Kirk Ferentz was there to talk about just football with Wednesday being the start of spring practice, and this was probably a sign of things to come.
Kirk Ferentz resents how his program has been portrayed, and he also probably resents how Brian Ferentz has been treated by the media, and now Kirk Ferentz seems more guarded in dealing with the media.
At least that's how it seemed on Wednesday as Kirk Ferentz set the tone for moving forward.
What's done is done, and he isn't interested in talking about the settlement, about his son's situation or about Barta's job status.
And fair enough.
This football-only approach will work with the Iowa media, but questions about the settlement and about his son will almost certainly come up with the national media, and with opposing media throughout next season.
Especially if the Iowa offense performs as woefully as it did this past season when it finished ranked 130th out of 131 teams in total offense.
The hope is that Michigan transfer Cade McNamara will help to jumpstart the offense with his play at quarterback.
McNamara still is recovering from a leg injury and will be limited this spring.
But Kirk Ferentz was more than willing to talk about his new starting quarterback and about how optimistic he is that the offense is on the right path.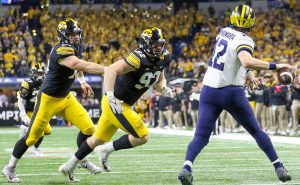 The hope is that McNamara can have the same impact he had as Michigan's starting quarterback in 2021 when he led the Wolverines to the Big Ten title, and to the college playoff.
McNamara and his former Michigan cohorts, which included tight end Erick All, who also has since transferred to Iowa, crushed Iowa 42-3 in the 2021 Big Ten championship game.
"That's where it's kind of a neat opportunity in some ways," Kirk Ferentz said. "I'm not totally anti-portal or this transfer stuff in that it made perfect sense for him. We've had quarterbacks leave here and find better homes, find homes, if you will, where they're able to finish out their careers and do really well. I think that's just how it worked for Cade.
"But you're talking now about a player that has been out there playing college football, done a lot of good things. I think the level of those conversations are a little bit different. The level of expectations are different, too, both ways, what we expect from him, what he expects from us. It's a real contrast. That's what makes things interesting, quite frankly."
McNamara's success will depend largely on his supporting cast on offense, and right now there are major concerns on the offensive line where Iowa struggled last season, and at receiver where depth continues to be a problem.
Ferentz said redshirt freshman receiver Jacob Bostick will miss all of spring practice due to an injury, while  sophomore receiver Seth Anderson, who joined the team at the semester via the transfer portal, is also out with an injury.
"Bostick, for sure. Then Seth, we'll see. I'm not overly optimistic," Kirk Ferentz said when asked if the two receivers would miss all of spring practice.
And while Spencer Petras is believed to have played his final game as a Hawkeye after starting at quarterback for most of the past three seasons, he is listed on the 2023 spring roster, and Kirk Ferentz was asked about his status.
"A pretty serious surgery he had," Kirk Ferentz said of Petras's shoulder injury that caused him to miss the 2022 Music City Bowl. "I don't think he'll be playing. We'll see. We'll let that play itself out."
Kirk Ferentz's answer about Petras caused a swift reaction on social media from fans that are as eager and determined to move on from Petras as Kirk Ferentz is from any discussions about the settlement, or about his son's situation.
Kirk on Brian Ferentz's adjusted contract. pic.twitter.com/rcez3WkvWh

— Pat Harty (@PatHarty) March 22, 2023