By Pat Harty
IOWA CITY, Iowa – Kirk Ferentz met with the media for about 35 minutes on Wednesday and was asked multiple questions about multiple topics.
Iowa's head football coach was asked about topics ranging from Michigan transfers Cade McNamara and Erick All, the racial discrimination lawsuit that was recently settled for a cost of $4.175 million, the performance objectives that were recently added to offensive coordinator Brian Ferentz's contract, and about the lawmakers who recently said that Iowa Athletic Director Gary Barta should be fired because of this latest discrimination lawsuit and settlement involving the athletic department.
Kirk Ferentz was also asked about the spring depth chart with practice having started on Wednesday.
So, there was a lot going on during Kirk Ferentz's first press conference since early February, and plenty to digest in the wake of all the recent news off the field, and yet, it was four short sentences that Kirk Ferentz said about one of his quarterbacks that caused by far the biggest stir, or reaction, or whatever you call a bunch of fans voicing their displeasure.
Ferentz was asked about Spencer Petras being on the 2023 spring roster, and what it meant from a depth standpoint, and this was his answer.
"A pretty serious surgery he had. I don't think he'll be playing. We'll see. We'll let that play itself out."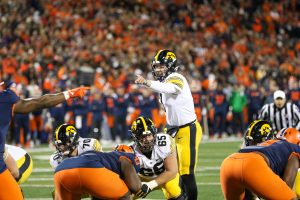 That comment was soon plastered all over on Twitter and the reaction was swift, overwhelmingly one-sided, and in some cases, mean and snarky.
The reaction was a reminder that some Iowa fans have had enough of Spencer Petras, who started at quarterback for most of the past three seasons.
Petras will forever being known, fair or not, as the starting quarterback for two of the worst offenses in program history in each of the past two seasons.
Iowa finished last season ranked 130th out of 131 FBS teams in total offense, and completed just seven touchdown passes.
Those are historically low numbers, so bad that you probably wouldn't believe it without having witnessed it yourself.
But it happened, and fans saw it, and they've had enough.
It's sad because Spencer Petras is such a fine young man, a great teammate, a quality citizen, and someone the football program can be proud to have as a representative.
He also never had the luxury of leading what could be described as even an average offense.
The offensive line struggled mightily in most games with Petras behind center, and the lack of depth at receiver left him with few playmakers on the outside.
The offense also didn't look any better with Alex Padilla or with Joe Labas playing quarterback last season.
Padilla was more mobile than Petras, but Padilla also completed less than 50 percent of his passes, and has since transferred to Southern Methodist University, while Labas, who started in the Music City Bowl, is listed as the backup to McNamara this spring, followed by Wisconsin transfer Deacon Hill in the third spot.
A Petras critic would say that he was the main reason the offense struggled, and while, yes, he deserves his fair share of the blame, the circumstances in which he played left much to be desired.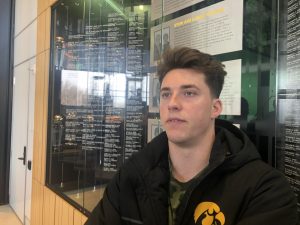 The hope is that the addition of Cade McNamara at quarterback, combined with an offseason of player development and help from the transfer portal, will help to jumpstart the offense and lift it to another level.
And should that happen, the Petras critics would say, 'see, I told you so. He was the problem.'
But as for Kirk Ferentz's comment about Petras, it appears that some fans are reading way too much into it.
They're upset, and in some cases confused and scared, because Kirk Ferentz seems to have left the door open ever so slightly for Petras to play again.
Petras is a long way from playing right now as he recovers from a serious shoulder injury that caused him to miss Iowa's 21-0 victory over Kentucky in the 2022 Music City Bowl.
The problem is that fans were led to believe that the injury would cause Petras to miss the entire 2023 season, and that he was only sticking around with his free Covid year to heal as a Hawkeye, and to help McNamara adjust to his new surroundings.
Petras even said after the Music City Bowl that he would return for the spring semester, but that he had to intention to play for Iowa again.
But then Kirk Ferentz said those four short sentences on Wednesday, and now Hawkeye nation is in a big tizzy.
Some fans are worried that they haven't seen the last of Spencer Petras behind center.
But they have, unless the 2023 season turns into the 1994 season when Iowa lost five quarterbacks to injuries, and if Petras recovers much quicker than expected.
Those scenarios are both long shots, but if there were a rash of quarterback injuries, having Petras to fall back on in a desperate situation might not be so bad.
Kirk Ferentz is very devoted to Spencer Petras and they have a mutual respect and admiration that will probably keep them connected for life.
But Kirk Ferentz has also moved on from Spencer Petras as his starting quarterback.
His comment on Wednesday was a little odd, but it's nothing to get worked up about.
The offense is now Cade McNamara's to run and Petras will be around to help in any way he can as he gets healthy.
So again, what Kirk Ferentz said is no big deal.