By Pat Harty
IOWA CITY, Iowa – The Iowa women's basketball team was set to play Georgia in less than two hours, and with a trip to the Sweet 16 on the line last Sunday, when I received an e-mail from Iowa Associate Head Coach Jan Jensen.
She was apologizing for having not responded to an e-mail that I had sent her in late February with a link to an article that Susan Harman wrote for Hawk Fanatic about the unprecedented rise in women's basketball attendance at Carver-Hawkeye Arena.
I remember thinking it was odd that Jensen hadn't responded to the e-mail because she is usually so diligent about those types of things.
But it made sense after reading her e-mail.
Pat
I'm so sorry …I missed all of this.  On top of our busy and exciting season, my dad entered hospice care a couple of weeks ago.  So, I have been making as many trips to my hometown as possible when my schedule allows.  And, my personal correspondence has suffered a bit. And, I don't get cell service in my hometown.  Anyway…please know that I, along with our staff, appreciate all of your great coverage and Susan's.  And, we also realize that you must also cover the wins and losses in our sport and all sports.  Thanks for all you both do.  Here's hoping to keep the fun run and excitement going. 
Take care and God bless…
Jan
The fact that Jensen would take the time to respond despite everything that was happening in her personal and professional life meant so much to me, and to Susan when I told her about it.
Jensen certainly didn't owe us an apology, but she felt that she did because that's Jan Jensen.
It's how she operates, and how she treats people, and how her boss and close friend, Lisa Bluder, treats people.
It was so much fun watching Iowa defeat Georgia last Sunday, and watching Jensen smile and celebrate during a very emotional time for her.
I know what it feels like to have your father enter hospice care, and it can be overwhelming at times knowing that the end is near.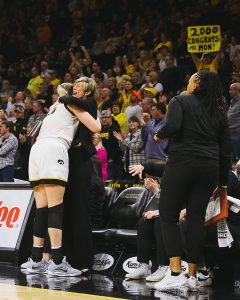 My father passed away in March 2018, and I still think about him, and my mother, who passed away in 2021, every day without fail.
Something will come up that makes me think about the happy times with my parents, and that helps with the grieving process.
Jan Jensen has a lifetime of memories and special moments with her father, and they will live on forever.
She hopes to have another special moment when Iowa faces Colorado on Friday in Seattle with a trip to the Elite Eight on the line.
Jensen has had to juggle the jubilation that comes from winning games with the overwhelming sadness that comes with the thought of losing a parent.
She's fortunate to have two families to help with the grieving process because it's hard to think of much worse than having to suffer and deal with grief alone.
The Iowa women's basketball team, which is led by dynamic junior guard Caitlin Clark, receives most of its attention for what it has accomplished on the court, and deservedly so because it is impressive.
From winning the Big Ten Tournament to winning 28 games so far this season, Clark and her cohorts have a chance to be the greatest team in program history, and one of the best teams in school history regardless of the sport.
So much goes into that greatness from a talent and coaching standpoint, but success goes beyond just talent and coaching.
There also has to be a mutual respect and a sense of caring and togetherness that helps to build a culture of winning.
And Iowa certainly has that culture under Lisa Bluder, Jan Jensen and the other coaches on the staff.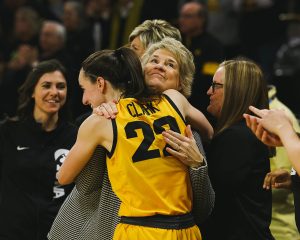 Spend a few minutes around the players and coaches on this team and you quickly realize why the culture is so strong by how they interact with each other. It's true and genuine.
Clark is without question the best player on the team, the most popular player on the team, and the most important player on the team from a performance standpoint.
But the team still comes first because basketball is a team sport.
Bluder and Jensen have done a spectacular job of letting Clark bask in the well-deserved spotlight, but without sacrificing the team-first mentality.
And that can't be easy.
Bluder has built a strong culture over time, and with help from a lot of unselfish and caring people.
Little things that often go unnoticed help to build and define a culture, and I know that first-hand about the culture under Bluder.
I was reminded just how special the culture is under Bluder when my dog, LaKota, passed away in Feb. 2019.
I was devastated by the loss of LaKota, which came less than three years after my other dog, Buddy, had passed away.
Both dogs were like family to me, and I pay tribute to their memory with a photo of them sitting next to each other on their favorite couch as my Twitter profile.
Shortly after LaKota had passed away, I received a sympathy card from the Iowa women's basketball team that was signed by all the assistant coaches.
The season was in full swing with it being early March 2019, and yet, Bluder and her assistant coaches still took the time to express their sympathy, and to make me feel better.
I became emotional as I read the card for the first time, and I still get emotional sometimes when I read the words on the card because they mean so much to me.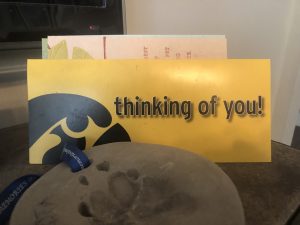 And now more than four years later, the card still is displayed prominently on my living room mantle, and sometimes, I glance at the card, which says "Thinking of You" and smile because it reminds me about the happy times with LaKota, and about the power that comes from just being kind and caring.
To say that I was surprised to have received the letter would be an understatement.
I was shocked, and blown away by the act of kindness.
It's one thing to get a sympathy card for the death of a family member, or a close friend, but this card was in honor of my dog, whom to me was just like family, and the Iowa coaches knew it.
They knew how much LaKota meant to me, and that I was suffering, and they just wanted to help me feel better during the grieving process.
I remember thinking that this random act of kindness was an example of the culture that Lisa Bluder and her assistant coaches have built over the years at Iowa.
Other than my very first year at the Iowa City Press-Citizen in 1991-92 when C. Vivian Stringer was the Iowa head coach, I've never covered the Iowa women's basketball team as a beat writer, so I haven't been a regular at the press conferences, games and zoom calls.
I'm not one of the faces from the media that Lisa Bluder is used to seeing on a regular basis, and yet, she and her assistant coaches still reached out during a dark moment in my life.
And for that I will forever be grateful, and will always understand why the Iowa women's basketball team has such strong chemistry on and off the court.
That was the case even before this current stretch of success that dates back to when Megan Gustafson ascended to greatness.
Each team, and each season is unique, but the Iowa culture is the one constant.
"It's amazing. I think Iowa has always had such a great culture," said senior forward McKenna Warnock. "I think if you asked any of the teammates of mine they'll say that Iowa itself just has a great culture. And I think the coaches are a huge part of that, of creating that and letting it last through the team that they've put together.
"They find great girls that are going to be great with each other and great people on the court and off the court. And so, I love that and I'm really happy that I was able to be a part of that."
One thing that has always stood out about Bluder's teams at Iowa is how happy and devoted her players are to the team, and to each other.
So many teams claim to be like a family, but with the Iowa women's basketball team, it's way more than just lip service.
Iowa has a culture under Bluder that makes every player feel important, because in a family, every player is important.