By Pat Harty
IOWA CITY, Iowa – When Bret Bielema learned about the tribute to John Streif that was published recently on Hawk Fanatic, he was eager to share his thoughts and pay his respects to a person that he greatly admires.
But there was one catch.
Rather than share his thoughts in writing as requested, Bielema, who is the head football coach at Illinois, and a former Iowa football player and assistant coach, wanted to do a phone interview instead, partly because he had a lot to say about Streif, who was a highly respected athletic trainer and travel coordinator for the Iowa football team, and for the Iowa men's basketball team before retiring in 2012.
Bielema had about a 25-minute break from spring practice this past Friday, so he used that time to talk about what John Streif still means to him to this day.
More than 30 years have passed since Bielema played as defensive lineman at Iowa under Hayden Fry, and Bielema has been the head coach for three different college teams, including Wisconsin and Arkansas prior to Illinois, and an NFL assistant coach.
But once a Hawkeye, always a Hawkeye, and that was apparent as Bielema shared his deepest thoughts about John Streif, who is currently enjoying retirement.
"I've been the head coach of three institutions, and was a part of two others in a coordinator role, and I've been to two NFL teams, I would say not only is he one of a kind, there isn't a person that I've ever met in my professional career, or my personal life, that compares to what John Streif did, and the impact that he had on people," Bielema said. "Not from a working relationship, because obviously, he was good trainer and, obviously, he was good at operations and great at coordinating, he was an unbelievable, and is an unbelievable person and human being.
"The care factor that he has and the relationships that he builds, you can literally be a player that graduated thirty years ago and call John Streif and he would drive and meet you and do whatever you needed him to do in the drop of a hat. He has an unwavering loyalty and friendship to anybody that he crossed paths with at the University of Iowa for sure."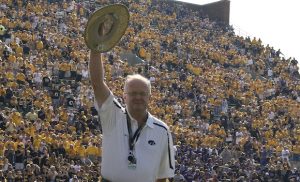 Even though he has coached at two of Iowa's Big Ten border rivals, Bielema's relationship with John Streif has remained incredibly strong over the years.
"What's obviously transcended for me is it went way beyond my time at Iowa," Bielema said. "Just very, very special and a unique human being, a very unique man."
Streif has been a source of strength for Bret Bielema during some of the darkest moments in Bielema's life, including the death of Bielema's mother this past November.
"When I lost my mom, one of the first people I heard from was Streif," Bielema said. "Yeah, just very, very special, and rare, and unique."
Streif also makes a point to reach out to Bielema during happy times, like when Illinois defeated Penn State in nine overtimes on the road in 2021.
"One of the first messages in my text messages was from John Streif," Bielema said proudly. "Just incredible awareness and he's a great judgment of people."
Bielema's perception of Streif has changed since he became a head coach because Bielema has grown to appreciate even more what Streif meant to the Iowa athletic department.
"When I was a student-athlete I had this one perspective of him," Bielema said. "But then when I was a coach, and the way coach Fry leaned on him and the work and the commitment and the dedication that he gave, I always just saw him as a good guy, a good trainer, a good guy who ran our trips. What I didn't realize is the value that he brought into that football building every day, to Hayden, for our coaches to our players, to our staff, it was just overwhelming, and it can't be repeated."
Roots to a tribute
The idea to pay tribute to John Streif on Hawk Fanatic came from a radio interview with former Iowa basketball player Jess Settles, who became emotional as he talked about how Streif helped him cope with the death of Chris Street, who was killed in an automobile accident on Jan. 19, 1993 and midway through his junior season on the Iowa basketball team.
Settles was a senior in high school at the time, but he already had signed a letter of intent with Iowa, so he was part of the Hawkeye family.
Streif helped Settles cope with his grief in the days right after the tragedy had occurred, but also when Settles came to college because Settles still was struggling with Street's death.
The Big Ten Network aired a documentary in January to mark 30 years since Street was killed, and Settles was discussing the documentary on KCJJ radio when he brought up John Streif.
Bielema was told in the process of arranging this interview that the documentary about Street, followed by the radio interview with Settles, helped to inspire the tribute to Street in an article on Hawk Fanatic that was called "Letters to John."
Bielema didn't watch the documentary when it was first shown, but he saw it later and kept waiting for Streif to be interviewed.
"What's amazing to me is I said what was the catalyst to this," Bielema said of the tribute to Streif. "Ironically, I don't even know how I started watching Chris's special. It wasn't the first time it aired, so it was kind of a re-run type thing. And I watched it, and I remembered the night that it happened, and I was expecting at any moment to see Streifer because I know how much he was involved in that moment."
Bielema had just finished his senior season as a member of the Iowa football team just two months earlier when Street was killed.
"I go through the whole show and I there were some shots of (Streif) at the service and everything and I saw pictures," Bielema said. "So, I didn't know if they reached out to him, or it would be just like Streifer, too, and he didn't want to do it."
Streif reportedly declined to be interviewed for the documentary because thinking back to that horrible night would've been too tough for him from an emotional standpoint.
"I can believe it," Bielema said. "That's total Streifer."
Bielema, like so many connected to the University of Iowa, knows exactly where he was the night Street was killed on the outskirts of Iowa City.
Bielema was at his house in Iowa City playing cards with his college roommates, and with Iowa defensive end John Hartlieb, who was among Street's closet friends.
"I knew Chris, and obviously, knew who he was and what he was, but him and Johnny Hartlieb were extremely close," Bielema said. "And I remember when it happened Streif was the one that came and got Johnny and Streif was instrumental in helping Johnny get through that moment."
Bielema was on spring break last week with his two daughters when Brett Moore from the Illinois Sports Information Office reached out to him about the tribute to Streif on Hawk Fanatic and asked if he would want to share his thoughts about Streif.
"It was the middle of last week I got the call from my media guy and he said would you be interested in doing this? And I said, absolutely," Bielema said. "Just keep it on my docket."
Ironically, that following Sunday night Streif happened to reach out to Bielema via a text message, but Bielema already had gone to sleep.
Streif knew that Illinois had an opening on its support staff and he wanted to recommend somebody.
"It was just classic John Streif," Bielema said. "I wouldn't expect to hear from him about an assistant operations job. But he had recommended somebody that he knew.
"Just the knowledge and the vast amount of people that John Streif has touched, you can't even comment. Any person that ever comes across John in any capacity, he has an immediate impact on them, and it usually lasts beyond normal relationships."
Legibly please
John Streif, in addition to being an athletic trainer, also handled operations and travel plans for both the Iowa football team and the Iowa men's basketball during much of his time at Iowa, which spanned over four decades.
Bielema was amazed as a student-athlete, and even more so now as a veteran coach, at how well Streif handled such a massive responsibility.
"I was just blown away with the volume of work knowing what I know now what he had to do," Bielema said.
Bielema told a story about Streif being in charge of handing out $10 to all the football players for spending money that was allowed under NCAA rules. The players would have to sign a piece of paper before Streif would give them the $10, along with one simple request.
"He would say legibly please," Bielema said. "He would say it to every person, a hundred and whatever it was guys walking through the dinner line. Everyone of them had to sign a damn paper for ten bucks, which back then, I'd make that last a week.
"And he would say, legibly please. So, like a code with some of our players when Streif was coming was legibly please. And you knew who was walking over. It was Streif."
To this day, Bielema and his five former college roommates/teammates still joke about that.
He shared a house with quarterbacks Jim Hartlieb and Matt Rodgers, fullback Paul Kujawa, tight end Alan Cross and defensive back Doug Buch after having lived in the dorms.
"We'll say legibly please, and everybody will know that we're talking about Streifer," Bielema said.
From triumph to tragedy
Tragedy struck Bielema's life in his sophomore year at Iowa in 1990 when his older sister, Betsy, was killed when she was thrown from a horse and hit her head on a rock.
"I had a lot of inner-personal relationships with John like every other player," Bret Bielema said. "But my sophomore year I lost my sister, and Streif was so important during that time."
Betsy's death occurred just hours after Iowa had defeated Michigan in Ann Arbor, a win that would go on to propel Iowa to the 1991 Rose Bowl.
So, Bret Bielema was obviously sky high from the win, but then his world came crashing down with the devastating news about his sister's death, which occurred in Seattle where Betsy was doing charity work for underprivileged children.
Bret learned about his sister's death from then Iowa defensive line coach Ted Gill.
Bret then immediately drove to his home in Prophetstown, Illinois, along with four of his Iowa teammates, including Jim Hartlieb and quarterback Paul Burmeister.
"This was before cell phones and all that stuff, and coach Gill was literally standing in my door and was the first one to tell me and I got into a van and I drove home that night," Bret Bielema said. "Those four guys just drove me home. And then they drove back that night and then I stayed there until like Tuesday and then I came back."
Bielema returned home for his sister's funeral on the following Wednesday before Iowa was scheduled to play Northwestern and then he returned to Iowa City on Thursday.
"I would say over the course of those four days John Streif probably checked on me at least twice a day," Bielema said. "I don't know if there was a day that went by over the next six months that John Streif didn't either stop by my dorm or grab me at training table and ask me how I was doing.
"Every day. And it wasn't just a how you doing bud? It was sit down, talk to me and look me in the eye for six months. And to this day, I can't think of anything that has had more of an effect on me during that time than that."
Loved by everyone
Coaches often say when trying to motivate their players that nothing is impossible, and Bret Bielema is no different.
He took on a daunting task in rebuilding the Illinois football program, but the program is clearly moving in the right direction after having won eight games this past season, including a 9-6 victory over his alma mater.
However, there is one thing that Bret Bielema believes is impossible, and yes, it involves John Streif.
"I would be shocked if you could find one person, any generation, any era of players at the University of Iowa that would have one thing at all negative to say about John Streif," Bielema said.
Times have changed to where now there are multiple people that handle the responsibilities that John Streif used to handle by himself.
"Now you have staffs that have thirty, forty, fifty people in there, right," Bielema said. "Streifer, he wore the hat of a trainer, and then on top of that he did all the travel, all the hotel arrangements.
"And now I have three operations guys that carry the structure and the job status that he had while he was also a trainer. It's just amazing the volume of work that he did and what he carried at that time."