By Pat Harty
IOWA CITY, Iowa – Brody Brecht's decision to focus solely on baseball makes so much sense you wonder what took him so long.
What took a kid with a million-dollar arm so long to decide that football was standing in the way of achieving potential greatness and earning life-changing money as a pitcher in baseball?
The answer is simple:
Football is Brecht's first love, his favorite sport and the reason he is on a full athletic scholarship at the University of Iowa.
Brecht even said that football is his first love in the statement that he released on Friday explaining his decision.
But there are times when a person has to make a sacrifice in order to do what's best in the long run.
"I want to be great in baseball and hope to play Major League baseball in the future," Brecht said in his statement.
That is basically what this decision came down to for Brecht.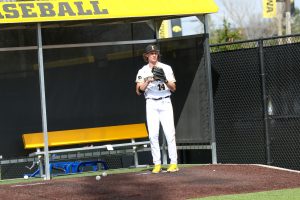 The 6-foot-4, 217-pound Ankeny native might have developed into a quality receiver for the Iowa football team.
But he already is a quality pitcher for the Iowa baseball team with an enormous upside that dwarfs his potential in football.
Brecht matched his career-high with 10 strikeouts in the 9-3 victory over Western Michigan as the new Friday starter, and there were times in the game when he was un-hittable according to Iowa head coach Rick Heller.
"In his first home game outing, Brody gave us a legitimate Friday night start," said Iowa coach Rick Heller. "He's been more consistent and gaining more confidence each time out. Brody threw a bunch of strikes tonight and was un-hittable at times."
Brecht deserves credit for sticking with football for as long as he did because it would've been easy to step away sooner.
He reportedly turned down a substantial amount of money in the amateur baseball draft coming out of high school to be a two-sport athlete at Iowa.
Brecht wasn't ready to step away from football because he loved playing the game.
He was big and physical as a receiver, and very successful in high school.
He spent two seasons as a member of the Iowa football team, and was redshirted as a true freshman in 2021.
So, he gave football a legitimate chance before deciding to step away.
Brecht will have to give up his football scholarship, but the cost from that decision will be worth it later.
He now will focus solely on pitching for the first time in his life, and will do so as part of an Iowa team that improved to 19-3 by sweeping Western Michigan in a doubleheader on Saturday. That is the best start in program history.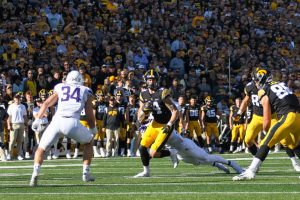 Brecht's decision to step away from football makes even more sense when you factor in the Iowa's football team's struggling offense that finished last season ranked 130th out of 131 teams in total offense.
Iowa only had seven touchdown receptions last season as a team and tight end Luke Lachey had four of them.
Brecht saw action in 11 games last season and finished with nine catches for 87 yards.
He has been hampered by nagging for much of his time at Iowa, and that could be from the demands of playing two sports.
The Iowa football program and the Iowa baseball program both deserve praise for doing what they could to make it work for Brecht in both sports. Both programs had to make sacrifices and be unselfish to help Brecht juggle both sports.
Brecht's decision certainly doesn't help the Iowa football team, but in this case, he had to put his interest above the Iowa football team and do what is best for him.
Brecht said in his statement that baseball has become his passion, and it's easy to see why with his upside.
Brecht has a gift as a hard-throwing right-hander whose fastball routinely get clocked in the 100s, and it's time to focus solely on that gift because there is life-changing money waiting to be unwrapped.
God's Plan🙏 pic.twitter.com/i7VMzYZXUt

— Brody Brecht (@brody_brecht) March 25, 2023