By Pat Harty
IOWA CITY, Iowa – With all due respect to the other finalists, Iowa junior guard Caitlin Clark got what she so clearly deserved in being named the Naismith Trophy award winner on Wednesday.
An individual award in sports is based partly on subjective thinking, and there is always some bias involved in picking who is most deserving because those who do the picking are human.
But in the case of Clark being named the winner of one of college basketball's most prestigious individual awards, it seemed a no-brainer.
All of the finalists are spectacular in their own way, but Clark has been in a class by herself this season.
In addition to leading the Big Ten in both scoring and assists, and having recorded the first 40-point triple-double in the history of the NCAA Tournament, men or women, Clark also has led Iowa (30-6) to the Final Four for the first time in 30 years, and for just the second time in program history.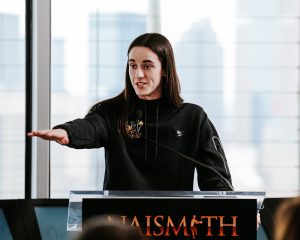 The West Des Moines Dowling Catholic graduate checks all the boxes, and has become the face of women's college basketball during her ascent to stardom.
Her 40-point triple double, which included 41 points, 10 rebounds and 12 assists, would have been impressive under any circumstance.
But Clark's masterpiece came against Louisville in the Elite Eight, and with a trip to the Final Four on the line.
Legends rise to the occasion, and Caitlin Clark has certainly met that challenge this season in spectacular fashion.
From her logo threes to her no-look passes to her acrobatic drives to the basket, the 6-foot Clark has performed at a level that so few players ever come close to reaching.
She was great as a freshman, spectacular as a sophomore and now even better as a junior.
South Carolina senior center Aliyah Boston was denied this award after having won national player of the year last season.
That didn't sit well with some South Carolina fans on social media, which is understandable, since the 6-5 Boston is the best player on the best team.
But Clark is a transcendent player, who impacts the game in more ways than any other player.
Boston also probably was penalized for spending a lot of time on the bench late in games because South Carolina has won more than half of its games this season by lopsided margins.
Many of its games have been decided well before the fourth quarter.
Clark will lead Iowa against top-ranked and defending national champion South Carolina in the national semifinal on Friday in Dallas.
One game won't settle the debate between Clark and Boston, but it'll certainly add to both narratives, especially should Iowa pull off the upset.
This marks the second time since 2019 that Iowa has had the Player of the Year in women's basketball as former center Megan Gustafson won it that season.
Gustafson paid her respects to Clark by calling to congratulate her during Wednesday's press conference in Dallas.
Former Iowa center Luka Garza was also named the consensus National Player of the Year on the men's side in 2021.
So, Clark being named the winner of the Naismith Trophy continues an impressive run for Hawkeye basketball.
Clark will have a target on her back, and the weight of being named the best in the nation to carry when she faces South Carolina on Friday. She probably has more pressure than Boston has under the circumstances because so much of the focus is on her.
But Caitlin Clark loves a challenge, so it'll be fascinating to see how she handles this next challenge.
𝐍𝐚𝐭𝐢𝐨𝐧𝐚𝐥 𝐏𝐥𝐚𝐲𝐞𝐫 𝐨𝐟 𝐭𝐡𝐞 𝐘𝐞𝐚𝐫 😤@CaitlinClark22 is the winner of the 2023 @NaismithTrophy. #Hawkeyes pic.twitter.com/rUlnRETDM5

— Iowa Women's Basketball (@IowaWBB) March 29, 2023