By Susan Harman
DALLAS – Fifty stories above ground seemed like the right setting for the Naismith Trophy Award for the nation's most outstanding women's basketball player. It is fitting because Iowa junior guard Caitlin Clark has elevated the sport to another level.
Clark was the winner of the award announced Wednesday atop the Reunion Tower. Clark was one of four finalists that included South Carolina's Aliyah Boston, Villanova's Maddie Siegrist and Virginia Tech's Elizabeth Kitley.
Clark gave a shoutout to her teammates, who were in attendance, along her parents and Iowa's coaches. Another shoutout came from the last Big Ten player to win the award, Iowa's Megan Gustafson. Gustafson called in the middle of the night from Greece, where she is finishing her pro season. Associate Head Coach Jan Jensen paraded around with the cell phone to show all the bemused Iowans in attendance.
"You're really grateful more than anything," Clark said of hearing her name called. "I'm just lucky I get to have my whole team here, our whole program here with me. That means more to me than this award ever could."
The award is presented by the Atlanta Tipoff Club.
"The Naismith Trophy represents the pinnacle of achievement in college basketball, and it is a great honor to congratulate Caitlin," said the Club's executive director Eric Oberman. "Her sheer dominance in today's women's college basketball game is undeniably awe-inspiring, and we are very proud to recognize her remarkable accomplishments this season."
Upon accepting the award Clark referred back to the 2022 award where she appeared as a finalist at the Final Four when Boston won. Clark said she vowed to return to this year's Final Four, this time with her teammates."I'm so happy for her and super proud of her," senior Kate Martin said. "She's so deserving of that award. She's unguardable.
"We've played 36 games this season, and there hasn't been a way to stop her yet, and I don't think there really is. The way she can get a crowd involved, the way she can score, her passion, her fire for the game. We've seen it in women's players before, but she really attracts a lot of fans. So many people have been watching women's basketball lately; I think she's the reason for that."
"She's improved other aspects of her game this year, not only scoring, she passes the ball, she's a great leader and she does a lot for our team," senior Gabbie Marshall said. "People are starting to realize the effect she's had on the women's game."
 Senior McKenna Warnock said that when Clark came into the program she knew she was destined for big things.
"For her? Of course. I'm just so glad the whole team is here and gets to experience it with her," Warnock said. "This is a huge honor for her, and it's something she's been working toward since she got to Iowa. It's so cool to watch someone go through this and see all the work they do every single day and see it pay off."
Warnock said it's a mistake to think Clark was a finished product when she arrived at Iowa, even though she had uncommon skills for someone coming out of high school.
"She's always worked harder, always could be better," Warnock continued. "She finds little facets she can change. Personally, for me, her confidence and her mental deportment has just progressed so much. You don't expect a freshman to come in and average 20 points a game to always be calm.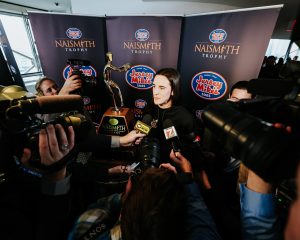 "She's been able to manage all the outside noise. She has accelerated her game and has been able to play with all those distractions."
Warnock said Clark has found that balance that comes from managing her fierce drive and channeling it through better decision making. Iowa's coaches had a role in tempering Clark's aggression—but only a little bit.
"When she came here I think she thought that she had to play like she was winning the championship on every single possession," Bluder said. "And she'd be responsible for the game-winner every single possession. I think she understands now time and score, her 3-pointers have gotten better, her defense has gotten better and her facilitation has gotten better too."
Clark's combination of scoring, passing and ball-handling is unequaled. Bluder has called her the most complete player, and in terms of those guard-oriented skills she is.
Here are just some of her statistics: First in the nation in assists (311) and assists per game (8.6); third in the nation in scoring (27.3); her 41-10-12 triple double against Louisville in the Elite 8 was unprecedented. She is shooting 47.4 percent from the field, 39.2 percent from three, 83.6 percent from the free-throw line, averaging 7.3 rebounds, and playing an average of 34.2 minutes per game.
She has been indestructible despite the constant bodying up done by defenses.
"She's really turned into an all-around player," North Carolina State coach Wes Moore said. "She'll lead the world in assists also. She doesn't mind giving it up. She's got great vision. She can score off the bounce, score mid-range or from deep or really deep. I don't know how you stop her. Maybe play a triangle-and-two and put 2 on her."
NC State's Saniya Rivers guarded Clark in the teams' December 1 matchup.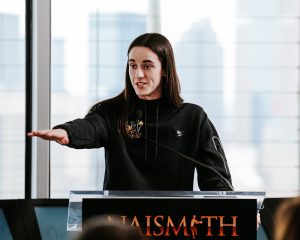 "Nothing (you can do about Clark). I felt like I contested them really well," she said. "Great defense, it's just better offense. You have to respect it and get back and not let it get into my head."
UNI coach Tanya Warren thought her team defended pretty well, too.
"I thought we defended her (Clark) for the most part, but you have to understand, and I've said this, she's the best guard in the country and it's not even close," Warren said. "You just have to try to make her take tough shots. But on the other end you've got to make her defend and hope to get her in foul trouble.
"But she's great for the game. She's great for our state. And the chemistry that she and Czinano has, I mean I've been doing this a long, long time, and I don't know if I've seen two that have the chemistry that those two have. It's pretty special."
Clark also has a flair for the dramatic. She hit the off-balance three with no time left to beat Indiana before a sold out Carver-Hawkeye Arena. Against Georgia in a second-round NCAA game she took and made the crucial shot in the game with 42 seconds left and Iowa nursing a two-point lead.
Southeastern Louisiana got their own up-close-and-personal look at the Caitlin Clark experience in a first-round NCAA game. Coach Ayla Guzzardo's team had played top-10 opponents LSU and Utah earlier in the year."Each of them had a very important piece to their puzzle," she said. "I'll be honest though, we haven't seen anything like Caitlin Clark.
What they can do with the ball from a scoring (perspective) to her passing. She can see the floor. What she can do has just been amazing. LSU has more bigs with Angel Reese and the same with Utah and their bigs, but as far as the guard spot we haven't seen anything like that."
Nor has the rest of the women's basketball world.