By Pat Harty
IOWA CITY, Iowa – It would be easy to predict that the Iowa football team will have a good punter in Tory Taylor, a good kicker in Drew Stevens and a good defense next season.
But here's a prediction related to Hawkeye football that is even more likely, a certainty if you will:
Success will not change Cooper DeJean one bit.
No matter how many pick-sixes he records, or how many individual awards he wins, or how many rim-rattling dunks he slams down to the amazement of his football teammates, Cooper DeJean will always be Cooper DeJean, a soft-spoken young man whose immense physical talent is only surpassed by his humility.
DeJean not only speaks softly, but he's also soft-spoken as he showed again on Thursday as select members of the Iowa football team, in this case mostly defensive backs, were made available to the media as part of spring practice.
DeJean, a rising star in Phil Parker's secondary, was surrounded by reporters pretty much from the time he arrived to when he finally left about 45 minutes later.
Iowa's All-Big Ten cornerback and special teams star answered all sorts of questions about all sorts of topics.
But DeJean was clearly more comfortable talking about the defense, or about the team, or about his teammates than about himself.
That's how DeJean was when he joined the Iowa football team, and that's how he will be when he leaves the program whenever that might be.
"I'd like to say I'm a pretty humble guy," DeJean said. "I like talking about our team and not myself."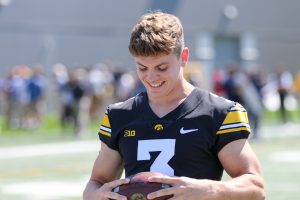 There are times when DeJean can't avoid talking about himself, like for example, Thursday's interview session as members of the media wanted to get as much information as they could out if him.
DeJean was asked for his reaction to what new Iowa quarterback Cade McNamara said about DeJean in early March as McNamara met with the Iowa media for the first time since having transferred from Michigan.
"An absolute freak of nature," McNamara said when DeJean's name came up. "Our first week, we all went and shot some hoops. This dude is throwing down (dunks) lightly. His head's above the rim and I'm just like, 'What the heck is going on?'"
When asked on Thursday what he was doing to impress Iowa's new starting quarterback, DeJean's answer was so predictable and typical.
"We just had a bunch of guys at the rec center and I was throwing a couple dunks down, but there's other guys that can do that, too," DeJean said. "But I appreciate that compliment."
DeJean often answers questions about himself by shifting the attention to his teammates.
It's almost a natural reaction for him to deflect the attention, sometimes he even deflects the attention to his parents, Katie and Jason DeJean.
"I think that's just how I am, and that's how my parents brought me up," DeJean said.
DeJean is always polite and patient when meeting with the media, as was the case again on Thursday.
He talked about defensive alignments, about tendencies and about strategies, and what have you.
And he was glad to talk about his teammates.
But when asked to talk about his rise to stardom, DeJean became a man of few words.
He isn't necessarily uncomfortable talking about himself, but he would rather have the spotlight shine somewhere else.
"I don't like the attention," DeJean said. "I would rather the attention be on our team and what we do as a whole. I think we've gotten better over the last season. But that's just the way I've always been growing up."
DeJean will enter his true junior season as one of the top defensive backs in the Big Ten, if not the country. He is comfortable playing both cornerback and safety, or even the cash position, but he seems to have found a home at cornerback, at least for now.
Fans would like for DeJean to become a two-way player, thinking that his skill as a receiver could help Iowa's sputtering offense.
McNamara has even lobbied for DeJean to play some on offense.
"That's what I've heard," DeJean said of McNamara's request. "If they want me there, I'll play anywhere they put me."
A reporter then asked sort of jokingly if Iowa men's basketball coach Fran McCaffery had asked DeJean to walk-on in response to his dunking prowess.
DeJean, who was a high school basketball star, seemed a little embarrassed by that question.
"No. No. I haven't talked to any of the basketball coaches," DeJean said.
DeJean certainly deserves every bit of praise he has received as a Hawkeye.
The Odebolt native was a multiple-sport star in high school, but now that he is playing just football, DeJean's upside is enormous.
He led Iowa with five interceptions last season, and with three pick-sixes and eight pass break-ups.
He also finished third on the team behind linebackers Jack Campbell and Seth Benson with 75 tackles.
And he excelled as a punt returner, averaging a whopping 16.5 yards on 10 returns.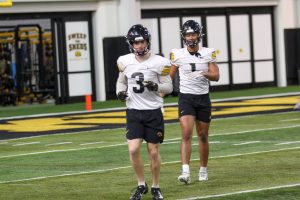 DeJean made first-team All-Big Ten last season, and was named the Music City Bowl MVP after having returned an interception for a touchdown in Iowa's 21-0 victory over Kentucky.
DeJean never would say this, but he appears to have no weaknesses.
Outside of maybe Caitlin Clark, the 6-foot-1, 209-pound DeJean is arguably the most popular Hawkeye student-athlete right now.
When asked about that, DeJean predictably tried to down play it.
"I don't know about that," DeJean said with an embarrassed look on his face.
And while DeJean already has achieved stardom as a Hawkeye, sophomore strong safety Xavier Nwankpa is knocking on the door of stardom.
A former five-star recruit in high school, Nwankpa played mostly on special teams last season, but then he made his first career start in the Music City Bowl and matched DeJean by recording a pick-six.
Nwankpa started in the bowl game for departed senior Kaevon Merriweather, who had skipped the bowl game to prepare for the 2023 NFL draft.
Nwankpa seems similar in some ways to DeJean in that he is also soft-spoken and a team-first quy.
But don't let that fool you as they both are also highly competitive.
Nwankpa mentioned that the Iowa defensive backs have a friendly competition in which they keep track of interceptions, pick-sixes and pass break-ups, along with other statistics.
"I'm just trying to climb the leader board on that," Nwankpa said.
Asked if he was doing well, Nwankpa said.
"I'm second right now to (Cooper)."
Upon hearing that, a member of the media said, "of course."
"I was ahead for a little bit, but he caught me," Nwankpa said. "And now I'm trying to get better."
DeJean seems unfazed by his rise to stardom.
And while he isn't comfortable talking about his success, or about his versatility, DeJean uses the hype to his advantage.
"It puts a little bit of pressure on me, and I like that pressure because I feel like that's when I play my best when there's those expectations and I don't want to let people down," DeJean said.