By Pat Harty
IOWA CITY, Iowa – The Iowa coaches saw something in Sam LaPorta coming out of high school that apparently no other Power Five coaches saw, and both sides have since been rewarded.
LaPorta has gone from being a lightly recruited receiver in high school to getting picked by the Detroit Lions on Friday as a tight end in the third round of the 2023 NFL draft, and with the 34th pick overall.
LaPorta will be reunited with former Iowa linebacker Jack Campbell, who was picked by Detriot in the first round on Thursday, and with the 18th pick overall.
A native of Highland, Illinois, LaPorta is the 12th Iowa tight end to be selected in the NFL draft under Kirk Ferentz, and the first since T.J. Hockenson and Noah Fant both were picked in the first round in 2019.
This marks the 11th NFL draft in which Iowa has had at least one tight end selected under Kirk Ferentz dating back to the 2000 draft.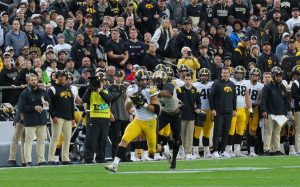 In fact, former tight end Austin Wheatley was the first Hawkeye selected in the NFL draft under Kirk Ferentz as the New Orleans Saints picked Wheatley in the fifth round in 2000.
And though LaPorta played receiver in high school, Iowa recruited him as a tight end, and now it's easy to see why.
The 6-foot-4, 249-pound LaPorta finished his Hawkeye career with 1,786 receiving yards on 153 receptions. He ranks first among Iowa tight ends in career receptions and second in career receiving yards.
He also had a streak of 24 straight games with at least one reception from 2019 through 10 games 2021.
And he compiled those numbers despite playing for an Iowa offense that finished ranked near the bottom nationally in total offense in each of the past two seasons.
Iowa has earned the nickname "Tight End U" because of its success in developing star tight ends under Kirk Ferentz, many of whom would go on to play in the NFL.
That includes George Kittle, who now ranks among the top tight ends in the NFL after having been picked in the fifth round by the San Francisco 49ers in 2017.
Kittle fell to the fifth round partly because of having an injury-plagued college career.
LaPorta, on the hand, was a model of endurance as a Hawkeye. He played as a true freshman in 2019, and would go on to be a three-year starter.
Iowa was the only Power Five school to offer LaPorta a scholarship.
This marks the second time since the 2019 NFL draft that Detroit has selected an Iowa tight end.
The Lions picked former Iowa tight end T.J. Hockenson in the first round in 2019, and with the eighth pick overall.
Hockenson played a key role for Detroit before being traded to the Minnesota Vikings.
LaPorta is the third Iowa player to be selected in the 2023 NFL draft as defensive lineman Lukas Van Ness and Jack Campbell were both picked in the first round on Thursday.
Van Ness, who never started a game as a Hawkeye, was selected by the Green Bay Packers with the 13th overall pick.
Iowa is one of just five schools to have multiple players selected in the first round of 2023 NFL draft, the others being Clemson, Alabama, Ohio State and Georgia.
Iowa tight ends under Kirk Ferentz selected in the NFL draft
Year, name, team, round
2000, Austin Wheatey, New Orleans, fifth
2003, Dallas Clark, Indianapolis, first
2004, Erik Jensen, St. Louis, seventh
2005, Tony Jackson, Seattle, sixth
2007, Scott Chandler, San Diego, fourth
2009, Brandon Myers, sixth
2010, Tony Moeaki, Kansas City, third
2014, C.J. Fiedorowicz, Houston, third
2017, George Kittle, San Francisco, fifth
2019, T.J. Hockenson, Detroit, first; Noah Fant, Denver, first
Another one. #NFLHawks pic.twitter.com/XL9h1NasW5

— Detroit Lions (@Lions) April 28, 2023