By Pat Harty
IOWA CITY, Iowa – Fran McCaffery has added two players from the transfer portal this spring, and he still has one available scholarship should another player emerge as a possible transfer target.
One such player has reportedly emerged as Iowa is now being mentioned as a possible destination for former North Dakota State star center Grant Nelson, who recently withdrew his name from the 2023 NBA draft.
Nelson is considered one of the top players still available in the portal, and he reportedly will visit Alabama.
Iowa, Arkansas and Baylor are also reportedly in the mix for Nelson, and media from each of those schools are promoting the chance of the 6-foot-11 Nelson ultimately picking their school.
Iowa already has added 6-9 forwards Ben Krikke and Even Brauns from the portal, but there is room for one more and Fran McCaffery is reportedly in hot pursuit of Nelson, who averaged nearly 20 points per game this past season.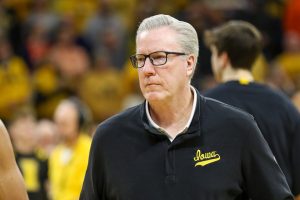 After having watched Nelson on tape, his style of play, and his versatility, would fit nicely in McCaffery's up tempo system.
The video linked below this article shows Nelson at his best, long, athletic and aggressive.
Iowa also could use its success with former All-America center Luka Garza as a selling point for Nelson.
Iowa has to replace its top two scorers from last season in forwards Kris Murray and Filip Rebraca, and landing Nelson would be a significant step in filling that void.
Nelson has a proven track record, and some would say star potential, but he also has some top schools working hard to land him.
**********
Notre Dame might be one step closer to joining the Big Ten: The Association of American Universities announced Thursday that six more schools will join the association, bringing its membership to 71 institutions.
Those schools are Arizona State, George Washington, California-Riverside, South Florida, Miami (Fla.) and Notre Dame.
Some believe this could make Notre Dame one step closer to joining the Big Ten because every school the Big Ten has added either was, or is an AAU member.
I'm not ready to go there yet, but stranger things have happened, like for example, USC and UCLA both leaving the Pac-12 Conference to join the Big Ten.
Nebraska was an AAU member when it joined the Big Ten, but has since lost its accreditation.
AAU is an organization of American research universities devoted to maintaining a strong system of academic research and education.
I used to think that the Big Ten needs Notre Dame more than Notre Dame needs the Big Ten, but now I'm not so sure.
Notre Dame's exclusive television contract for football puts it in a class by itself, and there is a mystique built around its independence in football.
However, the Big Ten is set to add both USC and UCLA to the conference in 2024, giving it a national reach and appeal, and even more television revenue.
The Big Ten and the Southeastern Conference have separated from the pack as the two super conferences, so, it might reach the point where Notre Dame joining the Big Ten would be too good to pass up from a financial standpoint.
One of the arguments against Notre Dame joining the Big Ten has been that it would only have regional appeal from being in a conference.
But that's no longer the case with the Big Ten now having members that stretch from coast to coast.
I'm not convinced that Notre Dame will join the Big Ten anytime soon, but the circumstances now look as favorable as they ever have with Notre Dame set to join the AAU.
**********
Inconsistencies with suspensions: Imagine if Keaton Anthony could have played a full schedule this season.
The Iowa baseball team's star hitter was named third-team All-American on Thursday despite having missed the last nine games of the regular season, and all four games in the Big Ten Tournament.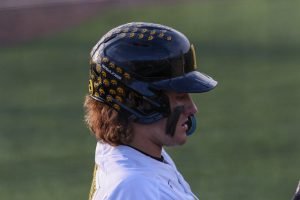 Anthony and teammates Jacob Henderson, Ben Tallman and Gehrig Christensen have all been withheld from games for nearly one month as an investigation into sports wagering is conducted.
Iowa head coach Rick Heller has expressed hope and optimism about the four players returning this season, but time is running out as Iowa prepares to face North Carolina in the first round of the NCAA Tournament on Friday in Terre Haute, Indiana.
Should Iowa lose two games in the NCAA regional, its season would be over.
The four players have been allowed to practice, and that's especially important for Anthony as he tries to stay sharp in preparation for the amateur baseball draft.
There is a growing sentiment amongst some Iowa fans that the four players are being treated unfairly.
And while it's easy to understand why fans would feel that way, it's hard to really know how to feel in this case because we know so little of the details.
All we know is that Anthony is among 26 UI student-athletes and 15 Iowa State student-athletes that are linked to the investigation.
We also know that there hasn't been any suspicious sports wagering involving Iowa or Iowa State sporting events.
College student-athletes are prohibited from gambling on sports of any kind under NCAA rules, and there are no exceptions.
It just seems odd that a student-athlete only draws a one-game suspension from driving under the influence, while Anthony and his three teammates have missed 13 games for reportedly gambling on sports, but not the sport they play.
Both things are wrong, but the difference in punishment is hard to understand.
**********
Prediction: Beth Goetz will lose interim tag in near future: To no surprise, Beth Goetz has been named the University of Iowa's interim director of athletics.
The announcement was made Thursday, and six days after current athletic director Gary Barta announced he would retire effective Aug. 1.
Iowa will conduct a national search, but my prediction is that the search will end with Goetz being named the permanent athletic director.
Judging from my feedback from Iowa fans, promoting Goetz to full-time athletic director would draw mixed reviews.
Some consider it a no-brainer, while others say it would be settling.
I haven't endorsed Goetz for the job. But I also wouldn't have any problem with her being hired for the job.
Her credentials make her more than qualified to succeed Barta, who has been the Iowa Athletic Director for 17 years.
Goetz joined the Iowa athletics staff as deputy athletic director in September 2022.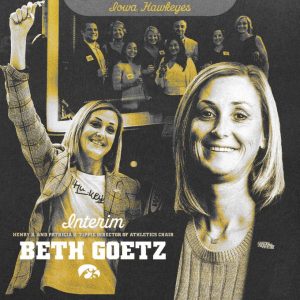 She came from Ball State University, where she served as director of athletics for four years. At Ball State, she supervised 19 Division I sports teams, all head coaches, and senior staff.
Before that, she served as the chief operating officer/senior woman administrator in the University of Connecticut athletics department from 2016-18.
She also previously served as the University of Minnesota's deputy athletics director from 2013-15 and interim athletics director during the 2015-16 season.
Goetz was named to the NCAA Competition Oversight Committee in 2018 and served as vice chair of the NCAA Division I Women's Basketball Committee in 2021-22. She was named by Women Leaders in College Sports as the 2022 NCAA Division I FBS Nike Executive of the Year and recognized by the Indianapolis Business Journal as one of the publication's 2021 Women of Influence.
Goetz is as qualified as Barta was when Iowa hired him in 2006, and her credentials also stack up to Bob Bowlsby's credentials when Iowa hired him as athletic director in 1991.
The fact that she is a woman shouldn't matter, but it probably does with some who might use that as a reason to either hire Goetz or not hire her.
Somebody reached out to me on Twitter to say that hiring Goetz would help to cleanse an athletic department that has been rocked by some costly and embarrassing legal settlements, as if saying it needs a women's touch and perspective to get back on track.
I'm not sure if I'd go that far, but it makes you think.
**********
Ferrari brothers set to be Iowa wrestlers: The Iowa wrestling team earned a major win in recruiting by gaining a commitment from 2024 mega-prospect Angelo Ferrari.
Ranked by some as the top recruit in the 2024 class, Angelo Ferrari will follow his older brother, Anthony Ferrari, to Iowa as Anthony committed to the Hawkeyes in March.
Landing two prospects of this stature would normally be the cause for celebration, but in the case of the Ferrari brothers, the celebration is tempered somewhat due to legal issues involving both Anthony Ferrari, and a third Ferrari brother, A.J. Ferrari, who previously wrestled at Oklahoma State where he won a national title at 197 pounds as a freshman in 2021.
Anthony Ferrari, 19, received a deferred one-year sentence on April 11 after pleading nolo contendere to two counts of assault and battery stemming from an incident on July 21.
A.J. Ferrari was charged with felony sexual battery in Oklahoma from an alleged incident last July. He has since left the Oklahoma State program and is set to appear before a Payne County jury Sept. 26 on a sexual battery charge.
He pleaded not guilty during his initial appearance on Aug. 11.
Iowa is certainly taking a chance in this case, but there is also something to be said for second chances.
And in fairness to Angelo Ferrari, he hasn't had any scrapes with the law, and is more guilty by association.
It's reasonable to assume that the Ferrari brothers have been vetted and that Anthony's legal issues have been closely scrutinized by UI athletic officials.
There is a code of conduct that UI student-athletes are expected to honor, and Iowa wrestling coach Tom Brands must believe and trust that the Ferrari brothers will live up to that expectation.
From a talent and potential standpoint, the Ferrari brothers are just what Iowa needs in its quest to compete against defending national champion Penn State, and some things, or in this case, two very talented brothers, are worth taking a chance on.
Iowa is giving the Ferrari brothers a chance to compete for a national powerhouse, and yes, their talent is a big reason why Iowa is doing that.
But talent only goes so far in athletics.
The Unicorn, Grant Nelson, has withdrawn his name from the NBA draft and will be looking for a new college home

Where should he go?

— Hoop Herald (@TheHoopHerald) May 30, 2023