By Pat Harty
Rick Heller returned to where he was used to winning baseball games and that's what happened on Friday as the Iowa baseball team hung on to defeat North Carolina 5-4 in an NCAA regional first round game in Terre Haute, Indiana.
Iowa improved to 43-14 overall and will now face the host team and No. 1 seed Indiana State in the semifinals at 5 p.m. on Saturday at Bob Warn Field.
Heller was a highly successful head coach at Indiana State from 2010-13 before taking the Iowa job.
He led Indiana State to an NCAA Regional in 2012, and compiled a 131-91 record.
With a win on Saturday, two-seed Iowa would tie the program single-season record for wins at 44, which was set in 1981.
And that it could occur against a team that Heller previously coached just adds to the intrigue.
The Tar Heels didn't go down easy as they scored three runs in the ninth, only to fall short.
Iowa is making its sixth appearance in the NCAA Tournament, and the third under Heller, who is in his 10th season as the head Hawk.
Sophomore Marcus Morgan overcame some control issues to pitch five innings, and his teammates gave him an early 3-0 lead after just two innngs.
"I think Marcus showed his maturity," Rick Heller said. "Even though there were a couple of baserunners. I didn't really feel like he was losing it, I felt like he had good stuff and was around the zone. He was throwing competitive pitches. The big thing Marcus was able to do tonight was put zeroes up and get shutdown innings after we scored. It has been a work in progress, but I really like where he is at and the progress he's made in the last month."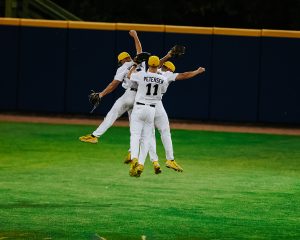 The Iowa bullpen, thanks mostly to Jack Whitlock, also did its part as he pitched three scoreless innings after replacing Morgan in the sixth inning.
Will Christopherson replaced Whitlock in the ninth, but Christopherson then allowed a two-run homer, cutting the lead to 5-3.
After recording one out, Christopherson was replaced by Luke Llewellyn with runners on first and second. Llewellyn would go on to allow one run, but he struckout the final two batters to secure the win.
Iowa played its 14th consecutive game without star hitter hitter Keaton Anthony, and without relief pither Jacob Henderson and catchers Ben Tallman and Gehrig Christensen as they are being withheld from games as an investigation into sports wagering is conducted.
Iowa improved to 11-3 in those games, and continues to perform well in all facets of the game; pitching, hitting and defense.
Sophomore Brody Brecht is expected to start for Iowa on the mound on Saturday, and while he has struggled to consistently throw strikes, he has been close to dominant when he does throw strikes.
Iowa also has another reliable starting pitcher in junior Ty Langenberg, so the circumstances are very favorable after starting regional play with a win.
Friday's win didn't come without some struggle, though.
Morgan walked a batter and hit another in the top of the first, but he worked out of the early jam.
The Iowa offense then struck right away in the bottom of the first as Sam Hojnar smacked a two-run double down the left-field line, scoring Sam Petersen and Brennen Dorighi, both of whom had reached base by hitting a single and by walking, respectively.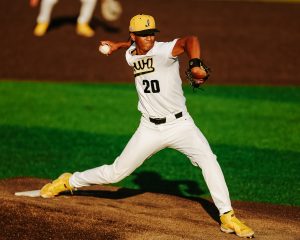 Iowa entered Friday's game with a 26-9 record in games in which it scored first, and with arguably the Big Ten's best pitching staff.
So, there was reason to be optimistic after what had occurred in the first inning.
Iowa scored one run in the second after having loaded the bases, giving Morgan a 3-0 lead heading to the third.
The Tar Heels scored on a sacrifice fly in the fourth, cutting the deficit to 3-1, and they threatened again in the fifth as Morgan started struggled again to throw strikes.
But the Iowa City West graduate worked out of this jam as the inning ended with a strikeout-throw out at second base.
The North Carolina runner was called safe on the field at second base, but the play was reviewed and overruled.
Morgan had lasted for five innings despite some momentary lapses in control and Iowa led 3-1.
He was replaced by Whitlock in the sixth, and Whitlock would go on to help secure the win with his dominance on the mound.
Morgan only allowed two hits and one run, and he recorded five strikeouts, giving Iowa a quality start.
He walked four batters, but he limited the damage from those free bases, and he left the game with a two-run lead, and with a deep and talented pitching staff ready to complete the job.
Iowa scored two runs in the eight inning on a RBI single by Brayden Frazier, followed by a perfectly executed bunt on a squeeze play by catcher Cade Moss that scored another run.
Those two runs would prove to be huge as the Tar Heels rallied late.
As for Saturday's much-anticipated matchup against Indiana State, it will be the second time the teams have faced each other this season.
Iowa defeated the Sycamores 6-2 in 11 innings on Feb. 17 in the season opener.
Iowa centerfielder Kyle Huckstorf was 2-for-5 and hit a walk-off grand slam in the 11th inning. Huckstorf's bases-clearing blast against Indiana State was the first of nine grand slams on the year for the Hawkeyes.
"It's going to be a good battle. Indiana State is a very good team," said Heller. "I watched them play today. Their kids play hard and believe in one another and found a way to come back like they did today. Now, it's both of us going to battle doing everything we can possibly do to win this next game. Both teams will be as prepared as anyone out there. It should be a really good game in a great environment with a lot of people watching."
Hawkeyesports.com contributed to this report
Win number 𝟒𝟑#Hawkeyes pic.twitter.com/jw60Nx8IfA

— Iowa Baseball (@UIBaseball) June 3, 2023