By Pat Harty
IOWA CITY, Iowa – When Alex Pruismann isn't carrying out the many responsibilities that come with raising six kids as a single father, or working as a Deputy Sheriff for Hamilton County, he often turns to his other passion in life, which is cheering for his beloved Iowa Hawkeyes.
And now he's doing more than just cheering for the Hawkeyes.
Pruismann started working for Hawk Fanatic this week as part-time content provider and he will focus mostly on football and basketball recruiting.
His first story was published on Thursday as he wrote about 2024 Kuemper Carroll tight end DJ Vannahme committing to the Hawkeyes as a preferred walk-on.
"I got a hold of him pretty quickly after I saw the news that he had committed and he got back to me and he was a great kid to talk to," Pruismann said. "It was a pretty good first interview for me. I was happy with it."
Pruismann had responded to a post on Twitter in which he saw that Hawk Fanatic was looking to add at least one additional content provider.
To say that I was surprised that somebody in his position wanted the job would be an understatement.
I was shocked, but also intrigued.
Why would somebody with so much on his personal and professional plates want to spend what little free time he has covering Iowa recruiting for a website?
"Because I absolutely love anything and everything Iowa Hawkeyes, and I want to be able to spread the word and show that passion to other fans that have the same passion, and I just can't get enough of it," Pruismann said. "I just can't get enough of the black and gold."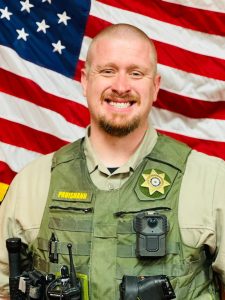 Pruismann, 35, is especially fond of recruiting, and when he saw an opportunity to take that interest to a new level, he seized it.
"I'm fascinated with being able to connect with people and what drives people in order to make decisions in their lives," Pruismann said. "Obviously, colleges are different in every facet, and I am just enthralled with the concept, like just the difference between Iowa and Iowa State. What makes one a fan over the other one.
"I love the thought process that goes into it, the techniques, the skills, the processes that go into recruiting. Everything just fascinates me."
Pruismann believes that being a single father with six kids will help relate to recruits, and to their parents and coaches.
His children range in age from three to 14.
"So, I have essentially been able to talk to kids for as long as I can remember," Pruismann said. "I feel like I can relate to kids and I can understand where they come from.
"I myself was a football player in high school and played a little bit in college. So, I kind of understand where the drive and the pressure is at, kind of be that person that relates to them."
Pruismann didn't waste any time after seeing on Twitter that Vannahme had committed to Iowa on Thursday.
He then used the same communication skills that help him as a deputy sheriff to interview Vannahme.
"I introduced myself and I said I'd like to do a little quick interview," Pruismann said. "Make it as simple as possible for te kid because I have found that if you make it simple for the kids, they're more apt to do it for you."
Pruismann's busy schedule will obviously create some obstacles and limit how much content he can produce for Hawk Fanatic.
But he is eager to take on more responsibility, and to write about the teams for which he grew up cheering.
"It's a great outlet for me to do something that I absolutely love," Pruismann said.
Pruismann has only been on Twitter since October 2021 and he's only posted one Tweet.
His Twitter handle is @alex_pruismann and he looks forward to trying to build his brand, which is a big part of covering recruiting.
"I am so excited for this opportunity," Pruismann said. "I love the Hawkeyes and I love recruiting. This is like a dream come true for me, and I'm very appreciative of the opportunity."