By Pat Harty
IOWA CITY, Iowa – Cade McNamara has gone from leading Michigan to the 2021 Big Ten title, and to the college playoff, as the starting quarterback, to losing his starting position last season to then joining an Iowa offense this past winter that has been the brunt of jokes and ridicule because of how poorly it performed last season.
"If you asked him how his year went last year, I think he would have a chip on his shoulder for this upcoming year, as we all would," Iowa senior receiver Nico Ragaini said this past Tuesday. "I was looking around at the team, the guys on the offense, and all of us didn't play the way that we wanted to.
"So, I think that brings us together as a unit. So, that's what I'm really excited for."
Ragaini was among a handful of Iowa players that met with the media on Tuesday to talk about the upcoming season, and about how the offseason has progressed.
McNamara didn't participate in Tuesday's interviews, but he has made it abundantly clear since transferring to Iowa that he is motivated by the critics and naysayers.
"They can keep doubting us all they want," McNamara said in a previous interview. "That's fine with me, honestly.
"What I've grown to realize is that this is a chip-on-the-shoulder type of program."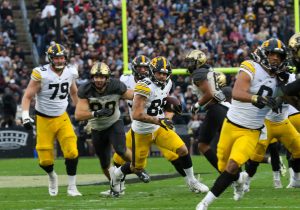 The chip-on-the-shoulder mentality has been an ongoing theme and motivation for the Iowa players throughout Kirk Ferentz's near-quarter century reign as head coach.
Iowa is considered a development program, where from a perception standpoint, Kirk Ferentz has consistently done more with less.
Iowa is known for turning two- and -three-star recruits into five-star players in college, and in some cases, future NFL players.
That gives Iowa a different mentality and mindset than what Michigan has as a traditional power.
Ragaini said Tuesday that he hasn't watched any game film from last season in quite a while.
And really, who could blame him because last season was a disaster on offense.
Iowa finished ranked 130th out of 131 FBS teams in total offense, and only had seven touchdown passes in 13 games.
Iowa still won eight games, including a bowl game, but that was thanks mostly to having a rock-solid defense and special teams.
"To be honest, I haven't watched the film from last year in a really long time," Ragaini said. "I'm putting last year behind us.
"I definitely remember the feeling of last year, and I don't want to feel that way again. So, that's how we're feeling coming into this upcoming year."
And while most of the blame on offense has been directed at offensive coordinator Brian Ferentz and former starting quarterback Spencer Petras, there is plenty of blame to spread around.
The Iowa offensive line performed woefully at times last season and that caused the running game to sputter.
Running backs Kaleb Johnson and Leshon Williams have shown that they both can be productive if they have some room to operate.
The problem is they didn't have many running lanes last season.
Iowa has since added two offensive linemen from the transfer portal in Daijon Parker and Rusty Feth, two receivers from the portal in Kaleb Brown and Seth Anderson and former Michigan tight end Erick All, who had over 400 receiving yards for Michigan in 2021 with McNamara as his quarterback.
So, there is reason for guarded optimism heading into this season.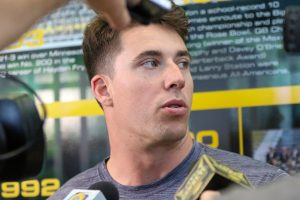 McNamara will be under immense pressure as he is being counted on to lift the quarterback play to another level.
But on the other hand, Iowa could be just average on offense and that would be a significant improvement from last season.
McNamara performed at an all-Big Ten level as Michigan's starting quarterback, but he also played behind arguably the best offensive line in college football, and with maybe the best group of running backs in the Big Ten.
He probably won't have that luxury as a Hawkeye.
But he will have a group of teammates on offense that are upset and embarrassed by how they performed last season, and that can be a powerful motivator.
Iowa should be solid again on defense and on special teams, so if the offense could just do its part, McNamara and Ragaini and their teammates on offense could get the last laugh.
Because right now, there are people laughing at them, and they know it.
They know that the Iowa offense became a national laughingstock and a punchline last season, and that Kirk Ferentz was widely criticized for keeping his son as the offensive coordinator.
McNamara, obviously, isn't afraid of a challenge because that is certainly what he faces as Iowa's new starting quarterback.
But if McNamara didn't think that Iowa's offense had a chance to improve, he would've gone elsewhere because he had other options.
The same with Kaleb Brown, who played his freshman season for Ohio State after having been a four-star recruit in high school.
Brown said McNamara's decision to be a Hawkeye helped to convince him to be a Hawkeye.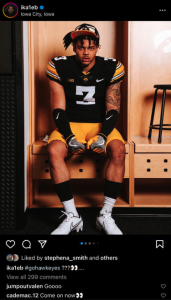 "Just the quarterback situation was definitely the number one thing that was most important to me," Brown said. "He's just a good overall, period."
Brown became better acquainted with McNamara during a trip to California in June in which multiple Iowa offensive players worked out together.
"I came out and kicked it with him and had a good time," Brown said.
It could also be said that Brown has a chip on his shoulder as he only had one catch as a Buckeye last season.
One of the reasons he transferred to Iowa is a chance for more playing time.
"One thing I take pride in catching anything thrown to me," said Brown, who also played running back in high school. "Yards after the catch, I've always been a running back, so I feel like that's one of my biggest skills."
Brown and McNamara probably wouldn't be at Iowa if their situations had been different at Michigan and Ohio State, respectively.
McNamara lost his starting position to somebody younger than him, while Brown was buried on perhaps the deepest and most talented deep chart in the country.
They're both hungry and determined to show that there is hope for Iowa on offense.
And that mindset fits perfectly with their new teammates on offense.