By Pat Harty
IOWA CITY, Iowa – Every year right about this time, I peer into my crystal ball to see what lies ahead for the next Iowa football team.
This is what I saw for the 2023 Iowa football team, which will face Utah State in the season opener on Sept. 2 at Kinnick Stadium.
Iowa head coach Kirk Ferentz never would say this about Iowa's 2023 schedule, but it has opportunity written all over it due to the perceived weaknesses or questions about most of the opponents.
Neither Michigan nor Ohio State are on the schedule, and the nonconference portion of the schedule leaves much to be desired from a competitive standpoint, especially with Iowa State's two-deep roster in danger of being gutted as part of the fallout from the ongoing gambling investigation.
These predictions were also made with the belief that Cade McNamara's soft-tissue injury will heal within two to three weeks, and that he will be Iowa's starting quarterback for all, or for most of this season.
**********
Iowa 34, Utah State 10: Iowa fans become emotional after the third play of the game and start hugging each other in the stands at Kinnick Stadium, and in bars and restaurants and family dens and basements after the Iowa quarterback, which at this point still is to be determined, completes an 8-yard pass on 3rd-and-5 near midfield.
Iowa goes on to score a touchdown on a 10-yard catch by junior tight end Luke Lachey, and also goes on to meet the 25-point performance objective that is now in Brian Ferentz's contract.
**********
2. Iowa 24, Iowa State 9: Kirk Ferentz with 10 seconds left in the fourth quarter orders his quarterback to take a knee from the Iowa State 1-yard line rather than try to score to meet the 25-point requirement.
It's sort of Kirk's way of saying, "amend this."
**********
3. Iowa 31, Western Michigan 12: Iowa, in addition to meeting the 25-point contract requirement, evens the series at 2-2 against its nemesis from the Mid-American Conference.
**********
4. Penn State 23, Iowa 17: Penn State head coach James Franklin gets annoyed when he is reminded after the game that his team also failed to meet the 25-point performance incentive in Brian Ferentz's contract.
**********
5. Iowa 24, Michigan State 14: Kirk Ferentz, for the second time in four games, orders his quarterback to take a knee in the closing seconds of the fourth quarter and with the ball at the Spartan 2-yard line. Kirk then says afterwards that the amendments in Brian Ferentz's contract never entered his mind when deciding to forgo a chance at meeting the 25-point requirement, but that he did think back to a Springsteen concert that he had attended for a ticket that cost just $25.
**********
6. Iowa 27, Purdue 21: With just seconds remaining, the Boilermakers are driving deep in Iowa territory with a chance to score a game-winning touchdown when Cooper DeJean reads a sideline route perfectly and then steps in front of the receiver and races 95 yards for a touchdown. It is DeJean's first pick-six of the season, and the fourth of his celebrated career.
He then gives Brian Ferentz the game ball for meeting the 25-point requirement for the third time this season.
**********

7. Wisconsin 23, Iowa 20: To help energize the Wisconsin players, and to help first-year head coach Luke Fickell get off to a successful start against the Hawkeyes, former Badger head coach Barry Alvarez delivers a powerful pre-game speech in the Wisconsin locker room, and he starts by asking that everybody remove their socks.
**********
8. Iowa 28, Minnesota 18: Instead of congratulating Kirk Ferentz for improving his record to 7-0 against him, Minnesota head coach P.J. Fleck, embarrassed and a shame by his lack of success against the head Hawk, congratulates Brian Ferentz afterwards at midfield for meeting the 25-point requirement in his contract.
**********
9. Iowa 35, Northwestern 9: Iowa racks up more than 400 yards, passes for three touchdowns, and meets both the 25-point per-game amendment in Brian Ferentz's contract, and the seven wins for the season amendment in his contract.
Brian Ferentz then receives a congratulatory call shortly after the game from Mr. Amendments himself, former Iowa athletic director Gary Barta.
**********
10. Iowa 25, Rutgers 13: Trailing 13-0 at halftime, Iowa then scores 25 unanswered points in the second half to not only avoid the upset, but also to meet the 25-point requirement for the sixth time in 10 games.
**********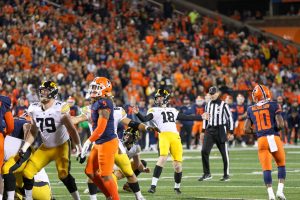 11. Iowa 15, Illinois 12: After scoring all of Iowa's points on five field goals, Drew Stevens says to the media afterwards that he wishes field goals were worth five points.
**********
12. Iowa 27, Nebraska 14: Iowa defeats Nebraska for the eighth time in the last nine games, and in doing so, wins the Big Ten West Division for the second time in three years and finishes the regular season with a 10-2 record, marking the eighth time that Iowa has won at least 10 games under Kirk Ferentz.
Kirk Ferentz then is told by the media afterwards that Iowa finished the regular season averaging 25.58 points per game to meet the 25-point requirement in Brian Ferentz's contract.
Kirk then lets out one of his famous snorts and says sarcastically that we all can start breathing a little easier now.