By Pat Harty
IOWA CITY, Iowa – Just the other day, I was made an offer in response to a prediction I had made recently that the Iowa football team would beat Penn State in the 2023 Big Ten Championship game.
Somebody offered to pay me $25 if my prediction came true, and then just seconds later, this person upped it to $50 because he was so confident that Iowa would fall short.
I respectfully declined the offer, thinking this might not be the best time to participate in anything involving money being won based on a team's performance.
But it was also just a friendly challenge in which I had nothing to lose besides being called a clueless homer if my prediction doesn't come true, and I've been called worse than that – by Hawkeye fans.
It was also a reminder that my prediction is extremely bold, and highly unusual if you know my track record for predicting Iowa's record in football.
I'm usually thinking 8-4 or 9-3 heading into a season, and with a 10-2 happening every four or five years, and a 7-5 popping up every now and then.
But there is just something that feels right about the 2023 Iowa football team.
From its schedule to the expected upgrade at quarterback to the depth at tight end and running back to the stability and strength on defense and special teams, Kirk Ferentz's 25th Iowa football team appears to have what it takes to win the Big Ten West Division for the second time in three years.
There should be a sense of urgency to win the West Division this season because the conference will never look the same moving forward with USC, UCLA, Oregon and Washington all set to the join the Big Ten next season.
Iowa will never have a schedule like the current one ever again in which four of the five road games are against teams from bordering states, the one exception being Penn State.
Injuries could have a lot to say about what happens, but at least on paper, Iowa compares favorably with every other team in the West Division.
What Iowa lacks on offense it makes up for with what is expected to be yet another rock-solid defense under Phil Parker, and with arguably the best punter/kicker combination in the country in senior punter Tory Taylor and sophomore kicker Drew Stevens.
The season will start on Saturday when Iowa faces Utah State in what will be a sold-out and steamy Kinnick Stadium.
In fact, Iowa's first six home games are sold out, and the seventh against Illinois on Nov. 18, is on the verge of being a sellout.
Kirk Ferentz was near the end of his opening statement at his weekly in-season press conference on Tuesday when he paid tribute to the fans.
"Just finish up by saying thanks in advance to our fans," Ferentz said. "Their response has been great. Sounds like ticket sales have gone well, and I know they're anxious, we're eager to see them in Kinnick. Will be great to be back in Kinnick.
"I've done this for a (long time) now, and one thing, it never gets old. It's always exciting to have that opportunity to take the field in Kinnick and perform in front of the greatest fans in the world, so we appreciate that."
The level of excitement surrounding the current Iowa team seems higher than usual, and much of it has to do with Kirk Ferentz's transfer portal haul.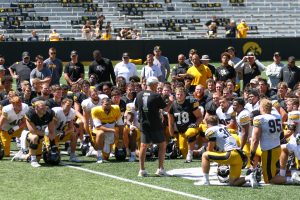 The addition of former Michigan quarterback Cade McNamara, and some other key pieces on offense and defense, has re-energized the fan base and inspired hope and optimism.
It also has made me believe that the offense could at least be average in the Big Ten.
Average in this case would be seventh in the Big Ten, and while that might not seem like much, we're talking about an offense that finished last season ranked 130th out of 131 FBS teams in total offense, and that only completed seven touchdown passes.
We're talking about an offense that performed so woefully last season that Iowa offensive coordinator Brian Ferentz signed a revised one-year contract for the 2023 season. His new deal includes a salary cut and a set of performance incentives he must reach for his contract to return to the two-year rolling agreement.
Those incentives, besides being a little silly, include Iowa must win at least seven games and average at least 25 points per game.
The belief with many is that Brian Ferentz will be terminated if he doesn't meet the performance incentives.
But I'm not so sure about that and will believe it when I actually see it happen.
The performance objectives, which were announced in early February, appear to be one of the last big acts of Gary Barta as athletic director before he retired in July.
Fans wanted Brian Ferentz, who is Kirk Ferentz's son, to be held more accountable, and some even wanted him to be fired.
The revised contract apparently was Barta's way of taking a stand, and now with him having retired, it makes more sense why he did it.
Because now he doesn't have to deal with it.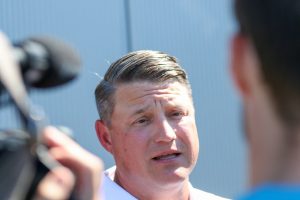 Assuming McNamara is now healthy again and stays healthy, the players on offense could rally around Brian Ferentz and use his contract as motivation.
The Iowa players and coaches have all raved about McNamara's leadership skills, and about how driven he is to win, which he did a lot at Michigan.
So, it's reasonable to think that McNamara could use Brian Ferentz's situation as inspiration.
Both, in a way, have something to prove.
McNamara is now a Hawkeye, but only because he lost his starting job at Michigan early last season, and less than a year after having led the Wolverines to the 2021 Big Ten title and to the college playoff.
In addition to being demoted, McNamara also suffered a season-ending knee injury in the third game of last season. And that was even more reason to leave.
McNamara has shown no bitterness towards Michigan, but he's also human with feelings and an ego.
He beat Ohio State as Michigan's starting quarterback, but then less than a year later, he was demoted.
That had to hurt.
Major college football is a tough business.
So far, McNamara has been the perfect fit for Iowa.
But now comes the hard part, performing on the field.
He's been there and done it before on some of the biggest stages, but that was in a Michigan uniform and with Michigan players.
McNamara will be surrounded by Hawkeyes on Saturday, and while it might not be equal to Michigan on paper from a personnel standpoint, there still is a lot to like about this Iowa team.
The defense and special teams both should be strengths and the schedule, which doesn't include Ohio State or Michigan, has opportunity written all over it.
A strong case also could be made for Wisconsin winning the West, and maybe even Illinois.
But the Badgers also have a new head coach in Luke Fickell and a new offense, so there could be an adjustment period, while Illinois has a new starting quarterback and has to replace a 1,000-yard rusher, along with some key pieces on defense.
Minnesota won nine games last season and edged Nebraska 13-10 in the season opener on Thursday in Minneapolis.
But the Gophers struggled where they usually thrive, which is staying ahead of the chains behind a powerful and persistent running game.
Iowa just seems to have the most well-rounded roster in the West Division, assuming McNamara is an upgrade at quarterback.
I see 10-2 with losses to the Badgers and Penn State during the regular season, but then Iowa will avenge the loss to Penn State with the Big Ten title on the line.
As for Utah State, your guess is as good as mine since there are 59 newcomers on the roster and six new assistant coaches, including a new defensive coordinator.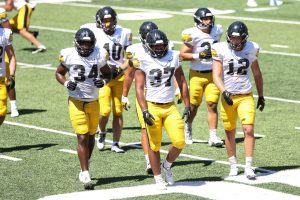 The Aggies finished 6-7 last season, but that means little now with so many roster changes.
But Iowa should win this game under any circumstance.
This will be the third meeting between the two schools with Iowa having won the first two games by scores of 70-14 in 1957 and 48-7 in 2002.
Both of those Iowa teams would go on to have successful seasons, finishing 7-1-1 in 1957 and 11-2 in 2002.
But also remember that Iowa had to block two blocked field goals to defeat Northern Iowa 17-16 in the 2009 season opener at Kinnick Stadium.
That Iowa team would go on to finish 11-2 and win the Orange Bowl.
So, don't read too much into Saturday's outcome, unless, of course, Iowa loses.
Should that happen, I might have to revise my prediction for the season.
Prediction: Iowa 26, Utah State 7