By Pat Harty
IOWA CITY, Iowa – Two things related to Hawkeye sports need to happen and the sooner the better.
The NCAA needs to reinstate senior defensive tackle Noah Shannon to the Iowa football team, and the University of Iowa needs to remove the interim tag from Beth Goetz's job title.
Shannon already has missed half of the regular season (six games) and it still might take him a few weeks to get back in playing shape when or if he is reinstated.
So, as a sixth-year senior Shannon's career already is down to just a handful of games, and while yes, he did break an NCAA rule by gambling on sports, he didn't gamble on his own team, and he apparently gambled few enough times to where the NCAA has allowed him to return to practice and is now considering his reinstatement.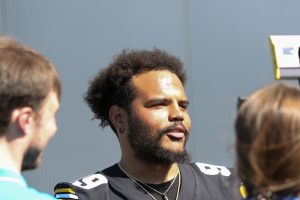 Iowa head coach Kirk Ferentz was asked Tuesday how long it would take for Shannon to get up to game speed.
Iowa's next game is Saturday at Wisconsin.
"I really don't know. We've never been in this situation," Kirk Ferentz said. "He missed a lot of time. He has a great attitude. He's been around and was working through an injury probably couldn't play physically until a couple of weeks ago. Hasn't been in pads in quite a while now.
"So we'll see. But I don't know even when the decision is going to be made, so at least we have ample time to get him ready, hopefully."
Shannon has been open and honest about his situation.
He turned down a chance to represent Iowa at Big Ten Media Day in late July because he didn't want to be a distraction.
He answered all sorts of questions at Iowa's media day in August and he didn't try to sugar-coat anything.
He was accountable and forthright.
The NCAA has decided to soften some of its suspensions in the wake of the sports gambling investigation that led to multiple student-athletes from Iowa and Iowa State being penalized in some cases for breaking NCAA rules, and in other cases for also breaking the law.
Shannon broke a rule and deserved to be punished, but as Kirk Ferentz has pointed out multiple times, Shannon didn't break any laws.
And as more and more colleges and universities get involved with gambling enterprises from a business and promotional standpoint, to suspend Shannon for the entire 2023 season, which was his original suspension, just seems too harsh, and somewhat hypocritical under the circumstances.
Iowa only suspends a student-athlete one game from driving under the influence.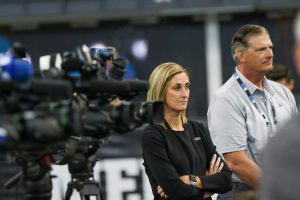 Shannon already has paid a pretty steep price.
As for Beth Goetz, she was promoted to Iowa Interim Athletic Director on Aug. 1, replacing the retiring Gary Barta, but not on a permanent basis.
Iowa has had to conduct an interview process and there is always a chance that a more qualified applicant could emerge.
But there hasn't been any sign of such a person emerging, and that is due partly to Goetz having a rock-solid resume.
She has steadily risen the ladder from college student-athlete to college assistant coach and head coach to college athletic administrator for multiple schools before coming to Iowa.
She also has made a strong impression during her short time at Iowa.
Iowa women's basketball coach Lisa Bluder endorsed Goetz for the job while speaking at Big Ten media day earlier this week in Minneapolis.
"I'm telling you, I think every coach — and it's hard to get every coach to agree on something — is behind her 100 percent," Bluder said. "She's an unbelievable team builder. She is a great leader. She's a great communicator, a great listener as well. I just think if we don't hire her, that would be a really, really not smart thing to do."
Bluder said Goetz is popular within Iowa's athletic department.
"I would say it's widespread among the coaches, and maybe the student-athletes," Bluder said. "I've seen Beth at more of our practices already. She's there, she's visible, she's in our community. I mean, she's a really special leader. I hope we can finish this deal and make her the athletic director."
It would be a surprise if Goetz isn't ultimately hired as the athletic director because it almost seems that she was brought into replace Barta at some point.
But again, the sooner, the better because there could be some big decisions that have to be made in the near future.