By Pat Harty
IOWA CITY, Iowa – They come from two different states and two different continents.
One speaks five different languages, while they each have their own distinct taste in music.
They all like to play video games, and they all love playing basketball, and each of them does so at a pretty high level.
The four freshmen on the Iowa men's basketball team are an interesting group that represents the future of the program, but that is also being counted on to help in the present.
Iowa head coach Fran McCaffery has had plenty of freshmen play key roles throughout his coaching career that dates back to the 1980s.
But to have four true freshmen in his rotation, which is the case now with forwards Owen Freeman and Ladji Dembele and guards Pryce Sandfort and Brock Harding, is new for McCaffery.
"I've always played freshmen, especially the really good ones," McCaffery said. "A lot of times two or three. But this group, we recruited them with that in mind, and they came here kind of with that in mind.
"Recruiting has changed with the portal stuff, but freshmen still want to play, and they're looking at a lot of different factors, not the least of which is NIL opportunities. But sometimes there are fewer opportunities for freshmen than maybe there used to be because everyone is waiting to sign the 23-year-olds.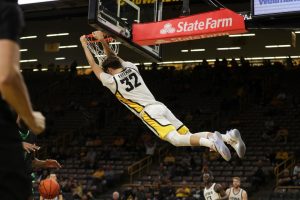 "But that hasn't changed how they look at it. Those guys came here saying, wait a minute — you look at Ladji and Owen, Owen committed a long time ago, but Ladji is like, wait a minute, they're losing their front line; I've got an opportunity. I want to go there and play. And he is."
Up next for Iowa, and for the four freshmen, is a game against Arkansas State on Friday at Carver-Hawkeye Arena.
The circumstances will be a lot different from Iowa's previous game at No. 8 Creighton in which the four freshmen faced a raucous sellout crowd in Omaha, Nebraska.
Iowa lost the game, 92-84, but the four freshmen gained a wealth of experience that should be beneficial moving forward.
"Those are the kinds of games that we're going to have to play in the Big Ten," Freeman said Thursday. "And just getting our first glimpse and our first taste of it, I feel like it was really important just to actually see what we're going to be facing this season.
"And I felt like we handled that really well."
The four freshmen have built strong friendships since arriving on campus this past summer.
They also strengthened their bond during Iowa's foreign trip to Europe in August.
"I think the summer was huge," Freeman said. "Our rooms are right next to each other, so we were always in and out of each other's rooms building that relationship off the court.
"And then being able to play in Europe established that connection on the court. We play with each other all the time in practice."
Freeman, a 6-foot-10 native of Moline, Illinois is roommates with the 6-8 Dembele, who attended high school in New Jersey after being born and raised in Mali in West Africa.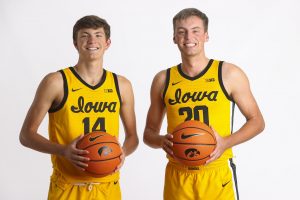 Dembele also lived in Spain for four years, so his travels across the globe have caused him to learn five different languages.
He speaks two different African languages, French, Spanish and English.
He was asked Thursday if he would like to learn a sixth language, but he said five is enough.
"When you go to a place where nobody speaks the same language as you, you've got to figure out a way or you're not going to be able to talk to them," Dembele said.
Dembele speaks English well enough to know how to make his new teammates laugh with his sense of humor.
"Me and Ladji have built a connection," Freeman said. "I love Ladji. He's really funny off the court, and obviously, he's a great basketball player and we're starting to build that connection on the court."
Freeman was named the Big Ten Freshman of the week after combining to score 22 points in Iowa's first two games against North Dakota and Alabama State.
He also scored eight points against Creighton while being matched against 7-1 veteran center Ryan Kalkbrenner.
Demeble also scored eight points against Creighton, and not surprising to him, he made both of his shots from 3-point range.
"It was a big part of my game since high school," Dembele said of the 3-point shot. "It was not like something that surprised me. And I knew I was going to shoot that ball. So, it was kind of like normal."
Dembele grew up playing soccer, but he also kept growing and that ultimately led him to pursue basketball.
He started getting serious about basketball about five years ago.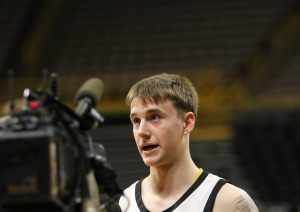 So, he's come a long way in a short time.
"When I started getting taller, I started saying soccer is not the sport (for me)," Dembele said.
Harding and Pryce Sandfort, who is the younger brother of Iowa junior forward Payton Sandfort, are among five guards that Fran McCaffery is counting on this season to contribute.
The other three guards in the mix are senior Tony Perkins and sophomores Josh Dix and Dasonte Bown.
The 6-0 Harding is probably the closest Iowa has to a pure point guard.
He and Freeman were high school teammates in Moline, Illinois last season and they led their team to a state title.
Pryce Sandfort, a 6-6 shooting guard, teamed with his brother as a sophomore to help lead Waukee Northwest to a state title when Payton Sandfort was senior.
Pryce Sandfort also led Waukee Northwest to the state title game last season as a senior, and was named 2023 Mr. Basketball in Iowa.
Much liker his older brother, Pryce Sandfort is a gifted 3-point shooter who has the freedom to shoot from behind the arc in Fran McCaffery's fast-paced offense.
Pryce missed both of his 3-point shots against Creighton, but he showed no hesitation in taking them.
"Pryce pulled up, was in the game a minute, we have a 2-on-1, he pulls up from three," Fran McCaffery said. "I don't say a word to him. I was shocked he missed it. So was he.
"He'll make a lot more of those than he misses, I'll tell you that."
Friday's game will mark just the second time that Iowa has faced Arkansas State.
Arkansas State won the first matchup 66-62 in 1985 at Carver-Hawkeye Arena.
That game was played about 20 years before Iowa's four freshmen were even born.
Arkansas State vs. Iowa
When: Friday, 7 p.m.
Where: Carver-Hawkeye Arena
Stream: B1G+
Radio: Hawkeye Radio Network
Series: Arkansas State leads, 1-0.
Last meeting: Arkansas State won 66-62 on Dec. 6, 1985 in Iow City.