By Dallas Jones
IOWA CITY, IOWA- We are still getting a feel for this new look Iowa Hawkeye Men's basketball team. They are now 3-1 through four games and their only loss is to a Creighton team that is amongst the best in the country as we speak.
We've seen flashes growth from experienced players and early signs of a spark in the new bunch. In this Friday's matchup against the Red Wolves of Arkansas State we saw both strengths and weakness from the Hawkeyes in their 14 point win.
1st half: Ben Krikke showed once again today that he was the perfect transfer for the Hawkeyes to bring into their starting lineup. Krikke had a perfect half from the field making all six of his field goal attempts (many from the mid range) helping him total 15 points.
One negative from the first half was the wide margin on the boards. Arkansas State out-rebounded the Hawkeyes 25-16 on the glass in the first half, 10-3 on the offensive glass. That is a big area of concern for the Hawkeyes this season and even when switching to zone defense, they still gave up second opportunities.
A big turning point came late in the first half when Arkansas State tied the game up at 36 with 4:33 till the half. Benn Krikke immediately responded with a layup and sparked a 13-3 run to close the half and give the Hawkeyes momentum into the half.
2nd half: Iowa came out of the break about as slow as you could imagine, shooting just 3-15 in the first eight minutes of the half.
Iowa put up 39 points on 12/29 from the field, 1/6 from three and 14/23 from the line.
On the other hand, they held the Red Wolves to 14/31 (45.2%) from the field, 4/11 (36.4&) and 3/10 (30%) from the line.
The two areas that helped the Hawkeyes the most in the second half was closing the rebounding gap and widening the gap at the line.
Iowa made 11 more free throws than Arkansas State in the second half alone and out rebounded the Red Wolves by four as opposed to being out rebounded by Arkansas State in the first half by nine. Full game box score can be found here: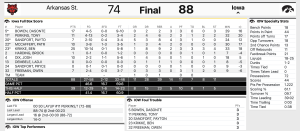 Before we reach December and conference plays begin it is good to be physically tested and the Red Wolves brought that to Carver-Hawkeye arena today.
Check out what Fran McCaffery and company had to say postgame here: