By Tyler Devine
IOWA CITY, Iowa – Nearly four years ago during his freshman season, Jordan Bohannon made the first of what would become a long list of clutch shots as an Iowa basketball player.
It was March 2, 2017 in the Kohl Center in Madison, Wisconsin, and Iowa trailed Wisconsin with under a minute to play.
Head coach Fran McCaffery ran a play for Peter Jok, then the Big Ten's leading scorer.
Jok missed, Cordell Pemsl snagged the rebound and passed to a wide open Bohannon who sank the 3-pointer with nine seconds remaining to seal an Iowa victory and snap a six-game losing streak to Wisconsin.
"That shot is definitely close to being number one in my most proud moments at Iowa just because of the rich history my family has with Wisconsin," Bohannon said.
That family history involves Bohannon's older brothers, Jason and Zach, both of whom played at Wisconsin under Bo Ryan.
On Thursday, Jordan Bohannon will play his final game at the Kohl Center, where Iowa has not won since that game in 2017, when the No. 11 Hawkeyes (15-6, 9-5) take on No. 21 Wisconsin (15-7, 9-6) in the first of two matchups between the teams this season.
Wisconsin has won 13 of the last 15 meetings played in Madison, and 11 of the last 16 meetings overall between the two teams have been decided by seven points or less.
Jordan Bohannon, a native of Marion Iowa, said he received some interest from Wisconsin as a high school recruit, but Ryan retired and with him went any interest in another Bohannon in a Badger uniform.
"(Wisconsin is) definitely a school that overlooked me and a place I saw myself at," Jordan Bohannon said. "Obviously, I wanted to go to Iowa and this was a school I dreamed of playing at, but also Wisconsin was right there, seeing myself wearing a Wisconsin jersey knowing my brothers played there, so that school has always been a part of me."
To say things have worked out well at Iowa for Jordan Bohannon would be an understatement.
The 6-foot-1 point guard's 337 made 3-pointers are the most in school history and rank second all-time in the Big Ten.
He also needs 14 assists to break Jeff Horner's school record for career assists and is the fifth player in program history to total at least 1,500 points and 550 assists.
When asked Tuesday what it would have taken for him to go to Wisconsin, Jordan Bohannon jokingly referred to a recent recruiting scandal involving the Tennessee football program.
"It would have taken about $20,000 in a McDonald's bag for me to go to Wisconsin," Jordan Bohannon said. "But no, it was mutual respect from the coaches from Wisconsin. I loved coach Ryan. I remember being in his office when Jason was getting recruited by him and all the jokes he was telling, all the amazing stories he had of being a coach at Wisconsin. It was really cool to be at that personal level with all these coaches."
Iowa enters Thursday on a two-game winning streak after a stretch of four losses in five games.
Much of Iowa's success can be attributed to the play of junior guard Joe Wieskamp, who earned Big Ten Player of the Week honors after averaging 23.5 points per game and shooting 71% from 3-point range in the Hawkeyes' wins over Michigan State and then-N0. 25 Rutgers.
The 6-6 Muscatine, Iowa, native's play has been particularly important with sophomore guard C.J. Fredrick playing limited minutes due to a nagging lower leg injury.
"I'm really proud of Joe and how he continues to improve," McCaffery said. "He's been a terrific player from the day he showed up on campus. But he just keeps growing. You see it in his confidence, his physicality.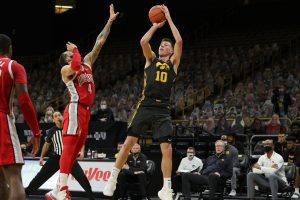 "He's just making big shot after big shot. His defense I think has really taken a huge step. He's making steals and he's always been a phenomenal rebounder. And you don't always get that from your small forward position, and I've been playing him a lot at 2-guard with CJ out. He's still rebounding at a very high level. Playing him a lot of minutes and he's in phenomenal physical condition. Any time you've got a guy who is playing like he's playing and he gets recognized for it. It's a great feeling."
Whether or not Fredrick plays Thursday remains to be seen.
Regardless, freshman forward Keegan Murray is listed as a starter.
In four starts this season, the 6-8 Cedar Rapids, Iowa, native has 31 points, 23 rebounds and one turnover.
"Mentally I have to be there every game during shoot around because I don't know when (Fredrick) is going to play," Murray said. "Just in practice every day staying mentally strong, staying mentally strong before the games, during the games. But C.J., me and him have been supportive of each other no matter the circumstances. He kind of took me under his wing when I first got here, so he's been like a brother to me and we've been really supportive of each other."