By Pat Harty
IOWA CITY, Iowa – The Iowa men's basketball team is nearing the end of a frustrating week in which it lost at Penn State in double overtime on Monday, had its game at Ohio State postponed on Thursday due to dangerous weather conditions and then head coach Fran McCaffery tested positive for Covid-19 on Friday.
Iowa also has lost three of its last four games and is two games below .500 in the conference at 4-6, and 14-7 overall.
But there still is a chance to end the week on a high note with Iowa preparing to face Minnesota at 3:30 p.m. on Sunday at Carver-Hawkeye Arena in what is clearly a must-win for the Hawkeyes.
Fran McCaffery will miss Sunday's game as he is now in isolation for five days as part of the Covid-19 safety protocols.
Assistant coach Billy Taylor will serve as the head coach in McCaffery's absence.
Taylor has a wealth of experience as a head coach, so Iowa should be in good hands on Sunday from a preparation and strategy standpoint.
Iowa will also face a Minnesota squad that has lost its last three games and seven of its last eight conference games. The lone victory during that stretch was a three-point victory over Rutgers (68-65).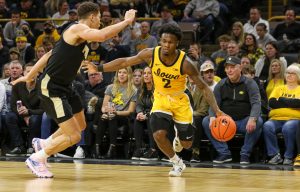 A victory on Sunday wouldn't qualify as a signature win for Iowa, but a loss would look horrible on Iowa's resume, and would do severe damage to Iowa's postseason chances.
Iowa's NCAA Tournament chances are hanging by a thread, and that's why Sunday's game against Minnesota is a must-win.
Iowa already has defeated the Gophers once this season on Jan. 16 in Minneapolis. Iowa led by as many as 23 points and scored the final seven points in an 81-71 triumph.
Iowa has used the same starting lineup throughout the season with forwards Keegan Murray, Patrick McCaffery and Filip Rebraca on the frontline, and with Jordan Bohannon and Joe Toussaint in the backcourt.
However, with the team struggling, and with Iowa needing a spark, it wouldn't be a surprise if the starting lineup changed on Sunday, with the change mostly likely occurring in the backcourt.
Bohannon switched from point guard to shooting guard during the offseason to make room for Toussaint to be the starting point guard.
And while Toussaint, who leads Iowa with 34 steals, has provided a spark on defense with his speed and quickness, the offense has been stagnant at times.
Iowa is only shooting 33.7 percent from 3-point range as a team, and the lack of 3-point shooting success has disrupted the flow on offense.
Sophomore forward Kris Murray, who is Keegan Murray's twin brother, leads the squad in 3-point accuracy, making 40 percent (26-of-65) of his attempts, while Bohannon is second (.349, 45-of-129). Bohannon is one of 20 players in NCAA history, and fifth player from a Power 5 Conference to make 400 triples in a career.
Iowa is 11-2 in home games, averaging 90 points and nearly nine steals per game, and shooting 80 percent from the foul line and 47.6 percent from the field.
Following Sunday's game, Iowa will hit the road again with a game at Maryland up next on Thursday. Iowa defeated Maryland 80-75 on Jan. 3 at Carver-Hawkeye Arena.
Fran McCaffery is expected to return for the Maryland game next Thursday.
Iowa vs. Minnesota
When: Sunday, 3:31 p.m.
Where: Carver-Hawkeye Arena
TV: Big Ten Network
Radio: Hawkeye Radio Network
Records: Minnesota is 11-8 overall and 2-8 in the Big Ten. Iowa is 14-7 and 4-6.
All-time series: Minnesota holds a 107-99 advantage in the series. The 206 meetings are the most Iowa has played against any opponent. The Hawkeyes have won four of the last five meetings, with the lone loss coming in overtime in Minneapolis on Christmas night in 2020
(102-95). Eight of the last 12 meetings, dating back to 2014, have been decided by seven points or less.
Iowa holds a 59-41 advantage in games played in Iowa City and a 23-10 advantage at Carver-Hawkeye Arena. Iowa has won 14 of the last 19 meetings in Iowa City, including seven of the last eight.