By Pat Harty
IOWA CITY, Iowa – Sometimes, it just seems fair to recognize a job well done by those who don't normally get a lot of recognition.
That is the purpose of this column, because even with football, basketball and wrestling all currently in the offseason, University of Iowa student-athletes are accomplishing great things, but with little recognition or fan support.
Take Austin West for example.
The Iowa City West High graduate shattered the decathlon school record and set the fourth-best point total (8,179) in the world in 2022 at the Mt. SAC Relays on Thursday at Hilmer Lodge Stadium.
"Austin had an absolutely fantastic 10 events over two days of competition to set not only a school record, but one of the top all-time collegiate best decathlons in NCAA history," Iowa Director of Track and Field Joey Woody said. "He is the ultimate competitor and he earned every point with grit and determination. He's a great representation of Iowa Track and Field." 
West broke former Hawkeye Will Daniels' school-record mark of 7,864 points. West also set personal-bests in seven of the 10 decathlon events over the past two days, and is now the No. 24 all-time performer in the decathlon in NCAA history.
And he's just a sophomore.
**********
Shifting to gymnastics where sophomore Adeline Kenlin placed second overall on balance beam at the NCAA Championships. Kenlin scored a 9.950 — the highest beam score by a Hawkeye at the NCAA meet in program history.
Kenlin finished second to Olympic Gold medalist Suni Lee, who scored a 9.965.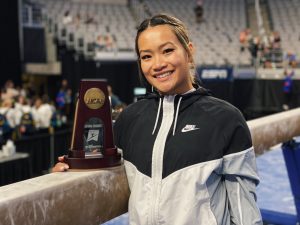 Kenlin's second-place finish is the highest for an Iowa women's gymnast all-time and she earned first team All-America status. Kenlin also becomes the sixth All-American at the NCAA Championships and the program's second on the beam, joining Mollie Drenth in 2016.
"There are no words to say how proud I am of Adeline's performance tonight," said Iowa head coach Larissa Libby. "To get to the National Championship as an individual is so difficult. To finish as the National runner up on beam, when competing in the company of some of the world's best gymnasts, well it's simply unheard of!"
A native of Iowa City, Kenlin earned second-team All-Big Ten honors during the regular season despite missing four weeks because of injury. She has won five event titles and had 13 top-three finishes this season. She also shares the school record on beam with a 9.975, has scored 9.900 or higher in eight consecutive meets.
**********
In softball where Iowa has really struggled in conference play, Nia Carter continues to excel at the plate.
She leads Iowa in hitting with a sparkling .430 average, collecting 49 hits in 114 plate appearances while striking out just eight times.
The sophomore from Rancho Cucamonga, California also has a .492 on-base percentage.
**********
Redshirt freshman Keaton Anthony leads the Iowa baseball team with a .340 batting average, and with 36 hits and 14 doubles.
The Georgia native is also second on team with five home runs, and with a .416 on-base percentage, while starting all 28 games.
Sophomore first baseman Peyton Williams, who is from Johnston, leads Iowa with 11 homes runs, with a .445 on-base percentage and with 16 walks.
The 6-foot-5, 255-pound Williams is also second on the team with a .330 batting average.
**********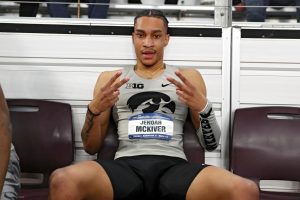 One of the two fastest quarter-milers in the world is a redshirt freshman on the Iowa men's track and field team.
North Carolina native Jenoah Mckiver earned that distinction by running an NCAA-leading time (44.74) in the 400 meters at a meet in Arizona last Saturday, breaking the school record and setting the No. 2 time in the world for 2022. The indoor NCAA runner-up is now the fastest Hawkeye quarter-miler ever, both indoors and outdoors. Freshman Everett Steward (46.40) ran the 11th-fastest time in Iowa history.
"It was an amazing day for Iowa track and field," Iowa Director of Track and Field Joey Woody said. "Jenoah had one of the best meets in Iowa history, breaking the school record in his opening 400-meter race this season, and then coming back to split 43.8 on the 4×400. He's an amazing talent and just as impressive is his work ethic and dedication to taking care of himself every day so he can perform at his best when it counts."