By Pat Harty
IOWA CITY, Iowa – This is exactly what Hawkeye fans feared would happen if the Iowa offense continued to be borderline dysfunctional.
Iowa State overcame three turnovers, including two in the Iowa end zone, two blocked punts and a potentially costly unsportsmanlike conduct penalty in the closing seconds to defeat Iowa 10-7 before a sellout crowd on Saturday at Kinnick Stadium.
The Iowa defense forced three turnovers, while junior Tory Taylor punted six times for a 50.7 average, but this time it wasn't enough to overcome a sputtering offense.
Iowa has only scored 14 points and converted one touchdown in two games this season, and the touchdown came in Saturday's game on a 16-yard drive that was preceded by one of the block punts.
Iowa still had a chance to tie the score on the final play of the game, but Alex Blom's kick in pouring rain sailed wide left from 48 yards as time expired.
The Iowa State players then rushed the field and sprinted towards the north end zone to reclaim the Cy-Hawk trophy, which had been in Iowa City since 2015 with Iowa having won the previous six games in the series.
The Iowa players left the field to a chorus of boos from frustrated fans that are fed up with how poorly the offense performed.
"We did a lot of good things on defense certainly, and a lot of big special teams plays, but then stating the obvious, we have work to do to move the football and we're going to have to score points to be successful," said Iowa coach Kirk Ferentz. "And that's where our focus goes.
"But we've got a lockerroom full of guys that are really invested that play hard and care about each other. But I don't have any main answers right now other than we get back to work tommorow and see what we can figure out and try to move forward."
Iowa was held 150 yards in Satuday's loss, which is worse than the week before when Iowa had 166 yards in a 7-3 victory over FCS opponent South Dakota State in the season opener at Kinnick Stadium.
Iowa senior quarterback Spencer Petras played from start to finish in Saturday's loss, but he had yet another woeful performance, completing just 12-of-26 passes for 92 yards and one interception.
Petras has now thrown just one touchdown pass and nine interceptions in the last nine games dating back to last season.
"To me, in both of these games he's still not getting enough help if you really do a fair assessment," Kirk Ferentz said.
The Iowa running game also continued to sputter, gaining just 58 yards on 25 carries. That averages out to just 2.3 yards per carry, which is unacceptable at any level.
But especially for a team that prides itself on being a power running team.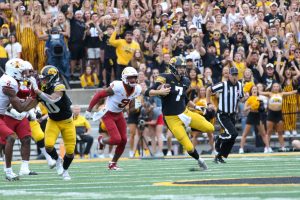 "I still feel this is not representative of our offense," Petras said. "I'm sure that's not what people want to hear because of what we've shown the last two weeks.
"But the process is kind of a long, winding road. Sometimes, it all comes together and sometimes it all comes unraveled. But I still have high hopes for our unit and for our team. This doesn't change any of our goals."
The Cyclones marched 99 yards on 21 plays to score what proved the game-winning touchdown on an 8-yard pass from quarterback Hunter Dekkers to receiver Xavier Hutchinson with 8 minutes, 27 seconds left to play.
Iowa has been decimated by injuries, and by attrition, at receiver, but senior tight end Sam LaPorta refused to use that as an excuse.
"We feel like we have guys that are capable of making plays and executing at the highest level," LaPorta said.
LaPorta also defended his quarterback during the post-game press conference.
"I know the average fan and the average reporter, you guys may (expletive) on him, but we see what does in practice," LaPorta said.
But at this point, any defense of Petras probably would fall on deaf ears for fans who are fed up with watching the same dysfunction in each game.
In addition to gaining very few yards, the Iowa offense also committed three turnovers in Saturday's game and now has five turnovers in two games.
The pressure continues to build on Iowa offensive coordinator Brian Ferentz, who is also Kirk Ferentz's son.
Iowa finished ranked 121st nationally in total offense last season, and the current offense is showing signs of being worse.
The hope was that making Brian Ferentz the quarterback coach would help ignite the offense, but that just hasn't happened after two games.
Petras appears to be regressing as a fifth-year senior despite having made 21 career starts.
Kirk Ferentz was asked several times during his post-game press confernce about making a change at quarterback, and he didn't rule it out.
Junior Alex Padilla was 3-0 as a starter last season when Petras was injured.
"If making a change is the best thing then we'll consider it," Kirk Ferentz said. "If not, we'll just keep pushing forward and see what we can do."
Kirk Ferentz also mentioned Iowa's lack of depth at receiver as a major factor in the offense struggling. Iowa only had two scholarship receivers that dressed for Saturday's game, and one of them, Brody Brecht, barely saw any action.
"It limits what you can do realistically," Kirk Ferentz said. "But it is what it is. We've got to try and coach around that and that our job, tryuing to figure out a better way to move the ball and be successful."
But even with all the dysfunction on offense, Kirk Ferentz gave no indication after Saturday's loss that he is ready to make signficant changes to Iowa's approach on offense.
"I don't see us making a wholesale change of what we do," Kirk Ferentz said of the offense. "But we've got to do things better. So, we'll reaccess over the next couple days."
Ferentz's unwillingness to make changes on offense is frustrating for fans and sort of a mystery for members of the media, who don't understand why Padilla hasn't at least been given a chance.
Iowa defensive lineman Lukas Van Ness blocked a punt in the third quarter, giving the Hawkeyes a first-down at the Iowa State 20-yard line.
It was Iowa's second blocked punt of the game, tying a program record.
Iowa then drove to the 2-yard line, but fullback Monte Pottebaum lost a fumble that Iowa State recovered at its own 1-yard line with 5:16 left in the quarter.
It took several minutes for the officials to review the play, but they ruled that it was a fumble.
It was yet another missed opportunity for the sputtering Iowa offense.
The first half was brutal for the Iowa offense as Petras only completed 5-of-11 passes for 33 yards and one interception on a ball that was deflected near the line of scrimmage.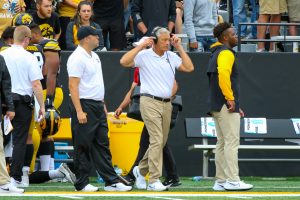 He also missed several open receivers in the first half on balls that were overthrown.
Iowa had 146 total punt yards in the first half and just 86 yards on offense.
Iowa State had 180 yards in the first half, but also scored just three points on three trips to the red zone.
The Cyclones were on the verge of scoring a touchdown in the second quarter when running back Jirehl Brock fumbled into the end zone while trying to dive over a pile.
Iowa defensive back Kaevon Merriweather was credited with forcing the fumble and linebacker Logan Klemp made the recovery in the end zone.
"I'll say this, not a very pretty football game either way, but at the end of the day, that's football," said Iowa State coach Matt Campbell, whose record improved to 1-5 against Iowa. "It's a game of imperfection, and I give our kids a lot of credit."
Iowa had dodged a bullet, but the offense continued to sputter for the rest of the second quarter.
Iowa led at halftime by the all-too familiar score of 7-3, which was the score of last Saturday's 7-3 win over South Dakota State in the season opener.
Iowa scored its first touchdown of the season on a 9-yard run by Leshon Williams with 12:21 left in the first quarter, but it came after Iowa State had a punt blocked deep in its own territory.
Iowa took over at the Cyclone 16-yard and Leshon Williams then scored two plays later.
Iowa State 0 3 0 7 – 10
Iowa 7 0 0 0 – 7
I – Leshon Williams 9 run (Alex Blom kick)
ISU – Jace Gilbert 22 FG
ISU – Xavier Hutchinson 8 pass from Hunter Dekkers (Gilbert kick)