By Pat Harty
IOWA CITY, Iowa – Alex Padilla must really be struggling in practice.
That's the only theory that makes sense right now after watching Iowa quarterback Spencer Petras perform woefully in the first two games this season.
Petras only completed 12-of-26 passes for 92 yards and one interception in Saturday's 10-7 loss to Iowa State at Kinnick Stadium.
Iowa dodged a bullet in the season opener when it overcame its dysfunctional offense to defeat FCS opponent South Dakota State 7-3 last Saturday at Kinnick Stadium.
Iowa scored its points on two safeties and a field goal against South Dakota State.
Petras was held to just 109 passing yards in that game while completing 11-of-25 passes with one interception.
The fifth-year senior, who has 21 career starts under his belt, is completing just 45.1 percent of his passes after two games and has thrown two interceptions and zero touchdown passes.
In the last nine games, Petras has thrown just one touchdown pass and nine interceptions.
Meanwhile, Padilla hasn't played a single snap as the backup in the first two games.
Kirk Ferentz was asked after Saturday's loss why he stuck with Petras.
"To me, both of these games he's still not getting enough help to do a fair assessment," Kirk Ferentz said. "He hasn't been perfect. Nobody has. We have a lot of moving parts right now on offense, and then we're shorthanded a little bit at a couple positions.
"We'll keep working through it and we'll talk about it tomorrow and see what happens moving forward."
Iowa has four quarterbacks on scholarship, but redshirt freshman Joey Labas and true freshman Carson May have no game experience, so it would be tough using either one with the offense being so overmatched right now.
Fans and members of the media only get to see what happens during games, while Kirk Ferentz evaluates his quarterbacks on a daily basis.
Iowa is shorthanded at receiver with just two scholarship receivers having dressed for the first two games.
But Petras also has missed open receivers on numerous plays in the first two games, usually by throwing the ball too high.
Sophomore receiver Arland Bruce might have had three or four more catches against the Cyclones if he were 6-foot-10 instead of 5-10 because Petras overthrew him on several passes.
But Bruce also fell down after making a catch when he had a clear path to the end zone.
You could just feel the energy being sucked from the crowd when Bruce fell down because scoring opportunities have been so rare this season.
Kirk Ferentz has a reputation for being loyal to his starting quarterback – James Vandenberg played every snap at quarterback during Iowa's 4-8 season in 2012 – but even Kirk Ferentz has shown that he has a breaking point.
He benched Jake Christensen early in the 2008 season and made Ricky Stanzi the starter, and he demoted two-year starter Jake Rudock shortly after the 2014 season and made C.J. Beathard the starter.
There were rumors that Beathard was prepared to transfer if he wasn't made the starter, and that forced Kirk Ferentz to make a change.
But whatever the case, Kirk Ferentz made the switch and both moves paid dividends as the offense performed better with Stanzi and Beathard behind center.
So, it's not that Kirk Ferentz is against switching quarterbacks.
He is just very reluctant to bench Petras, which makes you wonder about Padilla's performance in practice.
Because what else could it be?
Padilla has shown that he can play winning football by leading Iowa to three victories as the starter last season when Petras was injured.
But Padilla also completed less than 50 percent of his passes last season and was replaced by Petras in the second half against Nebraska in the regular-season finale.
Padilla apparently didn't play well enough last season to convince Kirk Ferentz that he gives Iowa its best chance of winning over Petras.
"That quarterback has built up some credit," Kirk Ferentz said of Petras. "He's got an account going. We've been around Spencer three years now. This is his third year playing as a starter, so we've been around him and seen him do a lot of really good things.
"As a person, as a young man, he's stellar. He's got all the attributes you're looking for, but it's not going well for him right now."
Senior tight end Sam LaPorta also came to Petras's defense after Saturday's loss and that's what you would expect from a team leader.
The problem is that fans are tired of hearing that Petras is a great guy and a great teammate who practices well.
Fans only get to see what happens in the games, and right now, Petras appears to be regressing despite being a fifth-year senior with 21 starts under hes belt.
Iowa offensive coordinator Brian Ferentz, who is Kirk Ferentz's son, has been widely criticized for how poorly the offense has performed since the start of last season, and for how poorly Petras has performed.
Brian Ferentz held a zoom conference with the media this past Wednesday and he was far more critical of Petras's performance in the season opener compared to Kirk Ferentz, who said Petras did some good things against South Dakota State.
Brian Ferentz blamed Petras's problems in the season opener on a lack of fundamentals, saying there were numerous throws that could have been made with proper fundamentals.
But Brian Ferentz doesn't decide who starts at quarterback. His father does.
Kirk Ferentz didn't rule out making a quarterback change for next week's game against Nevada.
"If making a change is the best thing, then we'll consider it," Kirk Ferentz said. "If not, then we'll just keep pushing forward, seeing what we can do."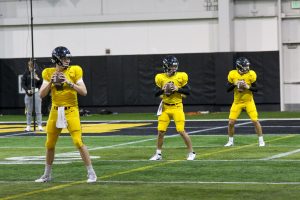 One thing that Padilla clearly does better than Petras is scramble and move the pocket.
Kirk Ferentz said defenses can cheat a little bit right now due to Iowa's personnel and that makes it hard for Petras to find a rhythm.
However, a reporter responded by saying wouldn't it make more sense to have a more mobile quarterback if defenses are cheating?
"I don't think it's necessarily quarterback runs that are going to do it, although, we had a good one today, and that's a good thing," Kirk Ferentz said of when Petras scrambled for a first down early in Saturday's game. "But I don't see us making wholesale changes in what we do. But we've got to do things better."
It's silly to think that Kirk Ferentz wouldn't play the quarterback who he feels gives Iowa the best chance to win.
That's why you have to wonder if Padilla has struggled so much in practice to where Kirk Ferentz is reluctant to use him.
Petras performed better then Padilla during the Kids Days practice in August, so that's really the only thing that makes sense right now.
But even if Padilla has struggled in practice, there still comes a point where you could justify making a change just to see if Padilla could provide a much-needed spark.
Iowa wasted yet another strong performance by the defense, and by punter Tory Taylor, because the offense failed to hold up its end of the deal.
There is plenty of blame to go around on offense, but it starts with the quarterback.
And if Kirk Ferentz still believes Petras gives Iowa its best chance of winning, that doesn't speak well for Padilla.
So, again, the only theory that makes sense right now is that Padilla must be struggling in practice.
Because if that isn't the case, then Kirk Ferentz really would have some explaining to do.