By Susan Harman
IOWA CITY, Iowa – Molly Davis and Hannah Stuelke shook their heads. No, coaches had not shown them a tape of last year's home game against Maryland.
The two are the only players among Iowa's usual rotation who were not witnesses to the carnage that was Maryland's 81-69 victory on Feb. 14. The Terrapins outshot (.455 to .413), outshot from three (.450 to .250), and outrebounded (47 to 31) Iowa. The Terps forced 19 turnovers and scored 28 points from those miscues.
The bottom line last year was that the loss nearly eliminated the Hawkeyes from the Big Ten race. It took a phenomenal recovery in the final half month (beat Indiana twice, won at Rutgers, beat Michigan in the finale) and some help from other teams to end up as co-champs with Ohio State.
The eighth-ranked Terps (18-4, 9-2) are a different team this year. Gone is 6-3 Angel Reese, a candidate for national player of the year at LSU. Mimi Collins transferred to NC State. Ashley Owusu transferred to Virginia Tech. Only Diamond Miller and Shyanne Sellers remain from the seven players coach Brenda Frese played in last year's game.
The dynamic 6-3 Miller is leading the Terps in scoring (18.6 ppg) and rebounding (6.2) and has taken over from Reese as the team's leader.
"Diamond Miller is one of the most talented wing-forward players in our league," Iowa coach Lisa Bluder said. "So capable of rebounding, getting to the basket, posting up. She's an incredibly gifted athlete. She's probably a first-round (WNBA) draft pick this year."
"She's a big problem," Davis said. "It will take a total team effort on her."
Sellers, a 6-2 sophomore, has blossomed into a threat inside or outside and is a pest in Maryland's press. But those two are not alone. Frese used the transfer portal to bring in Abby Meyers, a perimeter shooter from Princeton and guards Brinae Alexander (Vanderbilt), Lavender Briggs (Florida) and Elisa Pinzan (South Florida). Three of the four are grad transfers, and Briggs is a senior. The Terps have plenty of experience.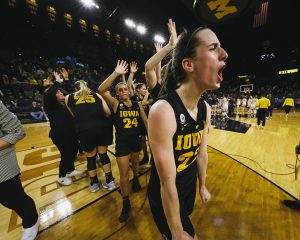 Maryland is loaded with 3-point shooters and has seven who are shooting at least 40 percent behind the arc.
"They have a ton of great shooters," Davis said. "We just have to know personnel, who we can and cannot help off of, and find the shooters in transition to slow that 3-ball down."
Maryland will play man-to-man, switch on screens and front the post on defense. It also deploys a press that traps opponents into turnovers.
"We know how Brenda likes to play defense," Bluder said. "That doesn't really change year to year. So it's the same scheme with different characters."
Maryland's size was a factor last year and could be again. Its defense on Iowa's Caitlin Clark held the Iowa star to seven baskets on 25 shots. Clark was hounded the full 40 minutes and double-teamed most of the game.
"They like to trap off their ball screens," Bluder said. "So we're fully expecting that.
Bluder said two keys will determine her team's success on Thursday night.
"We have to handle the ball, value the ball," she said. "They are one of the best at turning people over in the conference. They force over 20 turnovers a game, and they only turn the ball over less than 13 times. I think transition defense is important; they are good in transition. Twenty-six percent of their offense comes out of transition."
Bluder said Wednesday that McKenna Warnock had still not resumed practice. She has not played since Jan. 18 at Michigan State when she injured her ribs on an illegal screen.
When: Thursday, 7:30 p.m.
Where: Carver-Hawkeye Arena
TV: ESPN
Radio: Hawkeye Radio Network