By Nick Quartaro
IOWA CITY, Iowa – What can Drew Stevens do for an encore?
His performance as the Hawkeyes placekicker last season set the bar incredibly high.
The freshman preferred walk-on from North Augusta, Georgia was Iowa's kickoff man in the first two games of the 2022 season and he did a good job with that. But, it's what happened beginning in week three at home versus Nevada, and the throughout the rest of the season, that allowed Stevens to stack up numbers earning him a bucket full of post-season honors.
It was such a meaningful moment in his young career that Stevens remembers the exact time and location when he got the news he was hoping to get. It was a Friday on about the 40-yard line on the practice field sideline when Iowa special teams coordinator Levar Woods told him he would be handling all kickoff, PATs and field goas the next day versus Nevada.
"I had been practicing well, had a good week, so it wasn't too much of a surprise," Stevens said last Thursday. "Kicking off in the first two games kind of gave me a chance to get rid of the jitters."
The next day Stevens connected on both field goal attempts vs. Nevada, converting from 43 and 33 yards in his first collegiate attempts, and added 3-3 PAT conversions. His live leg also booted five touchbacks in six kickoff attempts.
For the year, he set an Iowa freshman season field-goal record with 16, missing just two attempts. He kicked the seventh longest FG in school history with a 54-yarder against Northwestern. Add in the fact that he was perfect on 24 PATs. So, doing the math Stevens' accurate stroke was good on a total of 40 of 42 placekicks!
Stevens garnered second-team Freshman All-America by College Football News, second-team All-Big Ten by league media, Associated Press and Phil Steele, third-team All-Big Ten by league coaches, was one of two freshmen semifinalists for the Lou Groza Award and was named Big Ten Conference Freshman of the Week for his play in 33-13 win over Northwestern.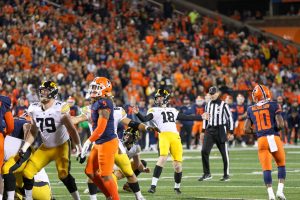 There are few positions on the football field that require more technical skills than that of a kicker. When you factor in the precision it takes from the working unit of the snapper (center), the holder and the kicker it's truly a special coordinated effort that requires hours of practice repetition and film study to be as effective as Stevens exhibited in 2022.
Iowa's outstanding punter, Tory Taylor, also has another important job; he's Stevens' holder. Those two along with snapper Luke Elkin have a camera on them every day at practice and can get four different angles to analyze themselves.
Stevens noted that when he arrived at Iowa last spring he was struggling a bit and needed to tweak things, which he certainly did.
And now this spring, he is building off what he accomplished last season.
"I had to analyze little things like shoulders opening fast, wrapping around and pulling ball left," Stevens said. "I still make little tweaks and adjustments."
Given the operational time from the snap to foot hitting the ball is usually between 1.2 and 1.3 seconds there is no margin for error. Placement of the ball is critical.
"I always want the laces pointing toward the target, which we call 12 o'clock," Stevens said  "Like a lot of right-footed kickers Stevens also pointed out, "If the holder tilts the ball just slightly toward himself (1 o'clock), that's good, too, because if he misses that angle and it still ends up at 12, I'm good with that."
Hawkeye fans know all too well that weather elements can run the full gamut throughout a season. The ability to make adjustments at home in Kinnick, or around the Big Ten, is an under-rated skill. Strong winds, heavy rain and snow can play havoc with the technique that goes into making a kick.
"I had never kicked in the snow before. So, being here was the first time for me," Stevens said. "I just had to practice and adjust how far back I would walk-off my steps, shorten them just a little and adjust how hard to charge," Stevens explained.
Kickoffs do not require any particular adjustment for the Hawks kicker. "With our kickoff team I just focus on crushing the ball. My normal kick will usually move a little bit to the left, my power side. But, if we need to place the ball to the right, I can do that, too, with just a little less distance." With Stevens leg and Iowa's pursuit to the ball Hawkeye opponents only averaged 16.94 yards per kickoff return, setting up the opposition's offense with a long field to go.
Given the success and celebrity that comes with it, Stevens was jokingly asked if he has lost his anonymity. Do fellow students recognize him as he goes about daily life on campus and around Iowa City.
"If they do, I don't know that they do," he said.
That's a fitting response for a guy with laser focus on whatever task is at hand.