By Pat Harty
IOWA CITY, Iowa – Kirk Ferentz, it seems safe in saying, never will rely heavily on the transfer portal to fill his depth chart.
It just isn't how he operates.
Fran McCaffery is the same way.
The two head Hawks in football and men's basketball would prefer to build from within, and reward those who stay the course.
But they're also realistic, even Ferentz, who some have accused of being too stubborn, too rigid, and too set in his old-fashion ways.
Ferentz and Fran McCaffery both have described the transfer portal as being a mess, but there are some messes that just can't be ignored.
There are some messes in which stepping in the mess is required as part of surviving in today's ever-changing sports world.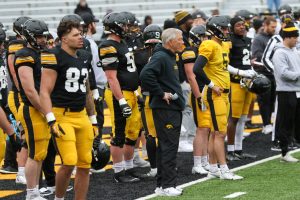 Kirk Ferentz, obviously, realizes that, because for a guy that isn't a huge believer in the transfer portal, he swallowed his pride, you could say, and hit the portal pretty hard, signing two quarterbacks, including former Michigan starter Cade McNamara, two receivers, two offensive linemen, and veteran linebacker Nick Jackson, who earned All-Atlantic Coast honors in three of his four seasons at Virginia.
Iowa needed immediate help at all those positions, and Kirk Ferentz, with help from his assistant coaches, appears to have addressed those needs.
Adding players from the transfer portal is sort of like signing recruits in that there is no way to judge without playing any games.
Of course, the big difference is that some of the players from the portal already are established at the college level, and in some cases, very established.
Cade McNamara started for Michigan's 2021 Big Ten champion team, and one of his favorite targets was tight end Erick All, who had over 400 receiving yards that season.
All has since joined McNamara as a Hawkeye, giving Iowa two proven players, including one who plays the most important position in team sports.
For Kirk Ferentz and his assistants to have convinced McNamara and All to transfer to Iowa despite the obvious concerns on offense says a lot about the tradition and culture that has been built, and it shows that Kirk Ferentz still can make a strong impression.
The Iowa offense became a national punchline last season as it finished ranked 130th out of 131 FBS teams in total offense, and produced just seven touchdown passes.
The fact that Kirk Ferentz's son, Brian Ferentz, is the offensive coordinator just adds another layer of awkwardness and frustration to the situation.
And yet, Cade McNamara still wanted to be a Hawkeye.
He still wanted to lead an offense that has been steadily getting worse since the 2020 season.
McNamara has said in multiple interviews since transferring to Iowa that he is motivated by the criticism, and that he relishes the opportunity to prove the doubters and naysayers wrong.
He also has worked hard to build relationships and trust with his new teammates.
McNamara was recently accompanied by 10 of his Iowa teammates on what has become for McNamara an annual trip to California in which he trains under quarterback coach Jordan Palmer.
The trip was a chance for McNamara to not only work on his fundamentals, but also to bond with his new teammates.
"I still have a lot of great friends at Michigan, but I will say here, too, I already have life-long friends that I've met here," McNamara said at this past Wednesday's press conference. "These guys were happy to see me, and I definitely have a lot of good friends on this team already.
"I'm just so happy I was given the opportunity to meet these guys."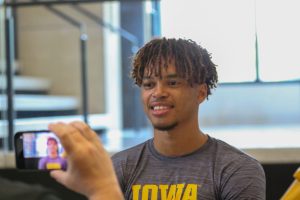 Iowa fans are just so happy that McNamara is now their starting quarterback.
And while he still has to perform on the field, McNamara is a sign of hope after what he accomplished for Michigan.
And for now, hope is the best he can do.
McNamara could just be average in the Big Ten next season from a statistical standpoint and that would be a significant improvement.
Iowa also should be rock solid again on defense and special teams, and you can assume that McNamara took that into consideration when picking Iowa.
A naysayer might say that McNamara had more talent around him at Michigan, and even if that were the case, it still doesn't take away from the hope and belief that Iowa's much-maligned offense is now moving in the right direction.
The two offensive linemen that Iowa landed from the portal – Daijon Parker and Rusty Feth – both come with vast amounts of experience, but at lower levels with Parker having played for three seasons at Saginaw State in Michigan, while Feth played for four seasons at Miam (Ohio) where he earned All-Mid American Conference recognition.
Iowa had an advantage with Feth in that Iowa offensive line Geogre Barnett was Feth's offensive line coach at Miami (Ohio) in 2019 and 2020.
"It's cool getting back in the routine with him, getting back with the way he coaches," Feth said.
Parker and Feth both represent a common occurrence in the portal as two players that want to compete on a bigger stage and at the highest level of college football before they use up their eligibility.
Receiver Seth Anderson also wanted to compete at the highest level after having played a key role as a freshman for FCS Charleston Southern this past season.
Iowa also added receiver Kaleb Brown from the portal, although, he already was on one of the biggest stages as an Ohio State Buckeye.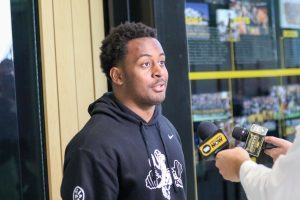 Brown's reason for transferring from Ohio State to Iowa seems mostly about playing time, with more of it at Iowa, and that's another common occurrence in the portal.
Select members of the Iowa team, including McNamara, met with the media this past Wednesday, and let's just say the transfer portal was well repesented.
Nick Jackson also attended the press conference as did Seth Anderson and Rusty Feth.
Jackson was considered one of the best linebackers in the portal, and for him to have picked Iowa over Oklahoma, is a testimony to what Phil Parker has established on defense.
Jackson was one of the best linebackers in the ACC and now he's a Hawkeye at a time when Iowa is replacing its top two linebackers from last season in Jack Campbell and Seth Benson.
Campbell was the 2022 Butkus Award winner as the nation's top collegiate linebacker, while Benson started for three seasons.
To have lost them both at the same time created a huge need that was serious enough that Iowa went looking in the portal and now appears to have added a nice piece.
"There's everything that you want in a football program right here," Jackson said of Iowa.
Kirk Ferentz will never be a big portal guy in the time he has left in coaching however long that might be.
But he also knows that the portal is here to stay, and that other schools are raiding it for talent.
So, in order to keep performing at a respectable level, sometimes you have to step outside your comfort zone and into the portal.