By Pat Harty
IOWA CITY, Iowa – The inspiration for this column came maybe from seeing so many debates about who is the greatest NBA player of all time, the greatest NFL quarterback of all time, or the greatest golfer of all time.
Michael Jordan or LeBron James?
Tom Brady or Joe Montana.
Jack Nicklaus or Tiger Woods?
It seems we're always trying to choose between option A and option B.
But instead of doing that for this column, I chose to rank the two greatest Hawkeyes of all time in five different sports: football, men's and women's basketball, baseball and wrestling, although, I almost gave up on wrestling because picking just two was a maddening experience due to having so many deserving candidates.
It would've been hard enough to pick the five greatest Iowa wrestlers of all time, so picking just two was incredibly difficult.
There are no right answers or wrong answers in this case because it's just one person's opinion.
But I'm sure you all will agree with my 10 picks.
Just kidding.
Football
Name, years at Iowa, hometown
Nile Kinnick, 1937-39, Adel, Iowa – Kinnick Stadium is named after him for lots of reasons, including the distinction of being Iowa's only Heisman Trophy winner as he won college football most prestigious award in 1939.
His legend has since become bigger than life partly because of how Kinnick died while serving his country. He was just 24 years old when as a naval aviator he was killed on June 2, 1943 during a routine training flight off the coast of  Venezuela in the Gulf of Paria.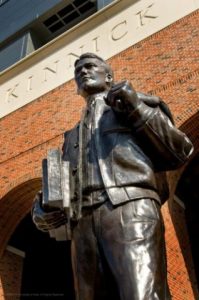 Many believed that Kinnick was destined for greatness away from football, and that he would be the Iowa's governor someday, or even rise above that.
Sadly, we'll never know, but his greatness on the gridiron is well documented and puts Kinnick in a class by himself more than 80 years after he last played for Iowa.
His 1939 season was a masterpiece as Kinnick was involved in 107 of the 130 points that Iowa scored that season. He played 402 of a possible 420 minutes that season and set 14 school records, six of which still stood after 70 years.
Kinnick was directly involved with 16 of the 19 touchdowns that Iowa scored in 1939 and he threw for 638 yards and 11 touchdowns on only 31 passes and ran for 374 yards.
Iowa also finished 6-1-1 in 1939 and had wins over Notre Dame and Minnesota.
Kinnick and his cohorts earned the nickname the "Ironmen" because most of the players rarely left the field.
Kinnick's jersey No. 24 is one of just two retired numbers in the history of the Iowa football program.
Kinnick also played basketball in college and was Iowa's second leading scorer and the 15th leading scorer in the Big Ten Conference his sophomore season in 1937-38. He also briefly played baseball for the Hawkeyes.
2. Calvin Jones, 1953-55, Steubenville, Ohio – He came to Iowa as part of the Steubenville Trio along with running back Eddie Vincent and end Frank Gilliam.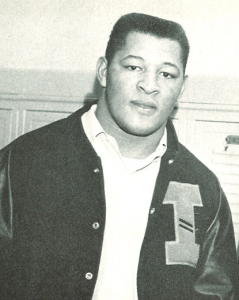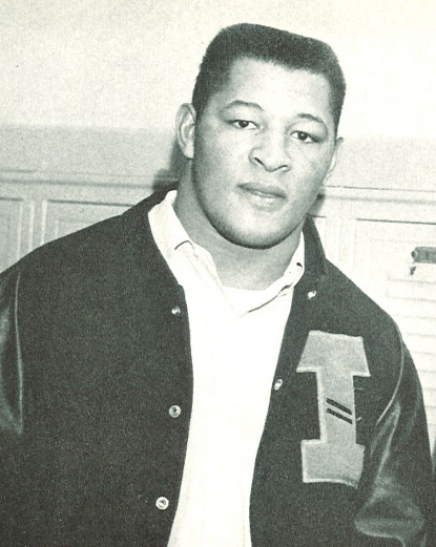 And while all three would achieve greatness as Hawkeyes, Jones became a legendary lineman as his jersey No. 62 is Iowa's other retired jersey number.
Jones won the Outland Trophy in 1955 as the nation's top lineman and he was also a consensus All-American twice, one of only two at Iowa, and a three-time first-team All-Big selection as a guard.
Jones died in a plane crash in Canada on Dec. 9, 1956. He was just 23 years old.
Jones was playing professional football in Canada as was a member of the Winnipeg Blue Bombers when the crash occurred.
The Iowa football team under head coach Forest Evshevski was preparing for the 1957 Rose Bowl when Jones was killed. The team dedicated Iowa's first Rose Bowl appearance to Cal's memory and would go on to defeat Oregon State, 35-19.
The team then sent the game ball to Talitha Jones, Cal's mother in Steubenville.
Men's basketball
Ronnie Lester, 1976-80, Chicago, Illinois – He helped lead Iowa's resurgence under head coach Lute Olson as a lightning quick point guard.
Lester started as a freshman and made an immediate impact, averaging 13.4 points, 3.6 assists and 2.4 rebounds per game for a team that finished 18-8 overall.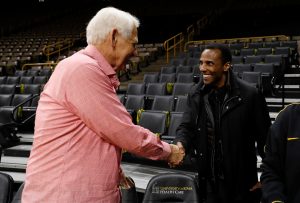 He then averaged 19.9 points per game as a sophomore and 18.7 points per game as a junior.
However, Lester's impact goes far beyond individual statistics as he made those around him better.
He also made Iowa a winner as the 1978-79 team captured a share of the Big Ten regular-season title, while the 1979-80 squad advanced to the NCAA Final Four.
Iowa hasn't won a share of the Big Ten regular-season title or advanced to the Final Four since then.
Hawkeye fans would like to believe that Iowa would've won the NCAA title in 1980 if Lester had been healthy.
His senior season was marred by a knee injury that caused Lester to miss a big chunk of the regular season.
Iowa was 7-0 when Lester was injured in the championship game of the Dayton Classic in December.
Lester returned late in the season and would go on to lead Iowa to the Final Four where it lost to Louisville 80-72 in the semifinals.
Lester injured his knee 12 minutes into the Louisville game, after scoring 10 of Iowa's first 12 points on 4-for-4 shooting from the field and 2-for-2 from the line. It was his final collegiate game as Lester did not return.
Lester would go on to play seven seasons in the NBA, but he never was the same from a physical standpoint after injuring his knee.
When healthy, the 6-foot-2 Lester was almost unstoppable in transition and Magic Johnson once called him the best point guard he had ever faced.
2. Luka Garza, 2017-21, Washington D.C. – The 6-11 center is by far the most decorated player in program history as a two-time National Player of the Year and two-time Big Ten Player of the Year.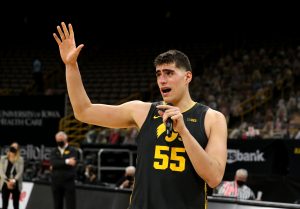 He is also one of nine Iowa players to have his jersey No. (55) retired, and he is the only player in Big Ten history to finish his career with at least 2,250 points and 900 rebounds.
Garza also became Iowa's all-time scoring leader (2,306) on Feb. 21, 2021, surpassing Roy Marble's previous record 15 games faster.
Garza is currently a member of the NBA's Minnesota Timberwolves.
Women's basketball
Caitlin Clark, 2020-present, West Des Moines – She has the distinction of being the only active Hawkeye to make this list.
Clark has soared to unprecedented heights in three seasons as a Hawkeye.
She was named the consensus National Player of the Year this past season and led Iowa to the NCAA title game for the first time in program history.
Clark is a generational talent as a 6-foot point guard and she has a shooting range that stretches beyond 30 feet. She is also a gifted passer and has led the Big Ten in assists in each of her three seasons.
She became the first player in Division I women's basketball history to record more than 1,000 points and 300 assists in the same season.
Clark also eclipsed 2,000 career points in her 75th career game, which ties her for the fastest NCAA Division I women's basketball player to do so. She is the fourth Hawkeye women's basketball player to score 2,000 points and is the seventh Iowa men's or women's basketball player to score 2,000 points. She is also one of just two Iowa players to surpass 2,500 career points, joining former All-America center Megan Gustafson.
This past season, Clark broke the Big Ten single season record for most points (1055) and she has 43 career double-doubles and 11 triple-doubles.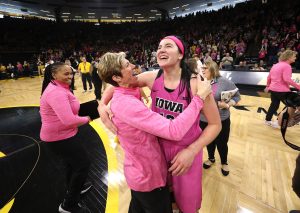 Her 41 points in the NCAA semifinals against top-ranked South Carolina are the most by any player against an undefeated team in NCAA Tournament history — men's or women's.
2. Megan Gustafson, 2015-19, Port Wing, Wisconsin – Her rise to National Player of Year in 2019 helped to convince Caitlin Clark that she could achieve her lofty goals as a Hawkeye.
Gustafson led the nation as a senior in five categories, including points per game (27.8), field goal percentage (69.6), total points (1,001), field goals made (412), and double-doubles (33). She also ranked second in defensive rebounds per game (11), and third in rebounds per game (13.4) and total rebounds (481)
She also became the fourth NCAA women's basketball student-athlete and first ever post player to score 1,000 or more points in a single season, and she currently owns 16 Iowa records, including most career points (2,804) rebounds (1,460), double-doubles (88), and field goals made (1136).
Gustafson also made Iowa a winner as she led th Hawkeyes to the NCAA Elite as a senior in 2019.
Wrestling
Tom Brands, 1988-92, Sheldon, Iowa – He and his twin brother, Terry Brands, combined to win five national titles for Iowa as Tom won three and finished his career with a 158-7-2 overall record, including 126-3 over his final three seasons.
Tom Brands would also go on to win a gold medal at the 1996 Summer Olympics.
He currently serves as Iowa's head wrestling coach and has led Iowa to four national titles with the most recent in 2021.
2. Lincoln McIlravy, 1992-97, Rapid City, South Dakota – I really struggled with this pick because there were so many worthy candidates.
McIlravy ultimately was given the slightest edge over a list that includes Ed Banach, Joe Williams, Jim Zalesky, Spencer Lee, Barry Davis and T.J. Williams among others.
McIlravy only lost three times as a Hawkeye and was a three-time national champion. He was also named the Outstanding Wrestler of the 1997 NCAA Championships, capping a 22-0 season.
Baseball
Tim Costo, 1988-90, Melrose Park, Illinois – He was a third-team All-American by Collegiate Baseball as a sophomore shorstop in 1989 after hitting 21 home runs and driving in 77 runs.  The following season Costo earned first-team All-America honors by Baseball America and The Sporting News after hitting 16 home runs and driving in 64 runs for a team that won 22 Big Ten games en route to the Big Ten regular season title and NCAA Tournament appearance.
Costo finished his Hawkeye career ranking third all-time in home runs (41) and he was selected in the first round of the 1990 Major League Baseball Draft, being selected eighth overall by the Cleveland Indians.
2. Jim Sundberg, 1971-73, Galesburg, Illinois – He led Iowa as a star catcher to its only appearance in the College World Series in 1972, earning All-Big Ten and All-America honors.
He was selected in the Major League Draft in high school, but chose to attend Iowa on a baseball scholarship.
He was drafted two more times as a Hawkeye and ultimately signed with the Texas Rangers as their number one pick in 1973.
He would go on to become one of the best defensive catchers in Major League history, winning six Gold Glove awards and was a three-time American League All-Star.