By Susan Harman
MINNEAPOLIS—The yellow confetti blanketed the victorious Iowa women's basketball team after an unprecedented demonstration of offensive efficiency in the Big Ten championship game.
It was the first time all day the Hawkeyes had been covered.
Iowa left no doubt as to which team deserved to lift the Big Ten championship trophy with an emphatic 105-72 victory over Ohio State at the Target Center.
Iowa shot 72 percent from the field in the first half in running over Ohio State, a team that came from 24 points down to whip top seed Indiana just the day before. Iowa was so efficient in the half that it seemed to score every time down the floor unless a turnover intervened.
Iowa led 25-9 after one quarter and 61-24 at halftime.  The 61 first-half points were the most the Hawks have scored all season. And this was against Ohio State.
The Hawkeyes put together successive scoring possessions of seven and nine and five in the first and second quarters. They missed only eight of 29 shots in the half. The points came from inside, outside and all around the town.
As an example of Iowa's offensive efficiency, the Hawkeyes scored in 17 of their 20 second-quarter possessions. They were just one turnover and two missed shots from perfection.
"The second quarter might be the best quarter of basketball that I've seen or been a part of," Iowa coach Lisa Bluder said. "Honestly the second quarter was spectacular on both sides of the ball."
"I think we were getting a lot of stops, and our defense was really moving, and we were communicating hard," Kate Martin said. "And then when we got stops we got to push in transition a lot. And we were moving hard, cutting hard, on our offensive end and getting the ball inside to Monika."
Iowa was determined to get the ball into Monika Czinano in the post and was successful. Czinano made 11 of 12 shots and finished with 26 points. Her shooting percentage (.917) is a Big Ten Tournament record.
 "They were trying to put one of their guards fronting her, and so that gave us a great opportunity to get it inside," Martin said. "I don't know if it was easy, but it was fun. It was fun to be a part of."
"Monika worked really hard inside tonight," Caitlin Clark said. "It's not always easy when you're being fronted constantly and they're super physical, you know? She makes some really tough catches on the block."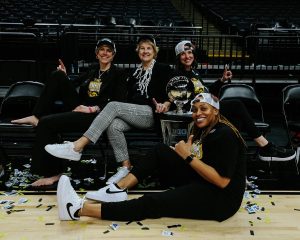 The pro-Iowa crowd of 9,505 erupted late in the game and clearly it wasn't because there was still any drama left.  But the savvy Hawk fans knew that when Caitlin Clark snagged her 10th rebound it completed her triple double. She scored 30 points and had 17 assists. It was the first triple double in a championship game and only the third in Big Ten Tournament history. She was named the tournament's most outstanding player for the second year in a row.
"I knew I needed one more (rebound); Coach Bluder told me," Clark said. "It was a really long rebound to the side, so I had to turn on the jets to get it. It was kind of fun. Our fans have been incredible all three games here. I don't know if we do it without them."
"When she got that last rebound she raced down the court with the biggest grin on her face," Bluder said. "It just like that's a joy to be able to play like that, it's so fun. I admire her for that. She's so competitive, but she loves the game so much."
Overall Iowa shot 62 percent from the field (36 of 58), and that buried a Buckeyes team that made just 9-of-36 shots in the decisive first half and 35 percent overall. Iowa's .621 shooting percentage ties a record for a tournament game and is the highest in a championship game.
"I think we changed (defenses) up," Clark said. "Our player-to-player defense was pretty good to start the game. They're a good team. Probably in a different game they make a few more shots. But I thought our defense was really good. We were contesting shots and playing physical in the paint, but more importantly we got rebounds."
McKenna Warnock led the team with 11 rebounds.
OSU seemed to have trouble finding freshman star Cotie McMahon in the first quarter. Iowa did a nice job defensively, but she took only one shot. Ricky Harris, on the other hand took five and made none. McMahon finished with 23 points and Taylor Mikesell had 24, but there was no punch at all in the first half.
"Congratulations to Iowa," OSU coach Kevin McGuff said. "They played an incredible game today and deserve to be the Big Ten champions. We just had a disastrous first half, and they made us pay. They were so efficient on offense."
OSU's vaunted press that so rattled Indiana was hardly a factor against Iowa. Some of that is Clark's talent, but Iowa had its players well prepared. Players were spaced well and passed crisply and there was no hint of panic when the press was deployed.
"I thought we handled the press very well," Bluder said. "We had 25 assists against 16 turnovers. Those are really good numbers against a team that presses like Ohio State does."
Bluder said her team was focused in on watching film of what OSU did to Indiana and preparing to face that pressure.
Iowa has six losses, but it didn't look like it Sunday.
"As unfortunate as some of (the losses) were, we needed them," Czinano said. We needed the lessons and I just think that we're hitting our stride at one of the best times we could possibly hit it on. We play in arguably the hardest league in the country, so it really is incredibly difficult to get here. I'm so proud of every single person on this team."
In addition to Clark's 30 and Czinano's 26, Martin had 13 points and Sydney Affolter 11. Affolter was a valuable sub who didn't flinch at the physical play despite a couple nasty spills.
This is Iowa's fifth Big Ten Tournament title. The others came in 1997, 2001, 2019 and 2022. OSU has been runner-up six times.
Iowa (26-6) beat OSU (25-7) in their only prior meeting this year, 83-72, in Columbus. That was OSU's first loss of the year and led to a stretch of losses, albeit against the best teams in the Big Ten. This time the Buckeyes were never in the game.
That Championship Feeling… #Hawkeyes pic.twitter.com/w9YfEh4Ot5

— Iowa Women's Basketball (@IowaWBB) March 6, 2023