Editor's note: This is the ninth in a series ranking the top 10 Iowa football players on offense, defense and kicking specialists. Up next, punter.
By Pat Harty
IOWA CITY, Iowa – Football is a violent and physically demanding sport in which size, strength, speed, quickness and toughness are key ingredients for success.
It also helps to have a reliable kicker because games sometimes are decided by last-second field goals as Iowa fans certainly know.
Iowa has had its share of reliable kickers and here are my top 10:
10. Jeff Skillett, 1988-91 – The final spot came down to Jeff Skillett and Marshal Koehn.
Skillett, a native of Silvis, Illinois, was given a slight edge due to having a more impressive body of work, which includes being one of eight Iowa kickers to finish his career with at least 200 points.
Skillett finished his career with 214 points, while Koehn scored 170 points from 2012-15.
Skillett made 34 field goals as a Hawkeye and 112 point-after kicks.
9. Daniel Murray, 2007-10 – The Iowa City Regina graduate made 33 field goals as a Hawkeye, but none were bigger than his 31-yarder with 1 second to play that defeated then No. 3 Penn State 24-23 in 2008 at Kinnick Stadium.
In 2008, he scored 89 points, connecting on 19-of-26 field goals and 32-of-33 point-after kicks, with a long field goal of 48 yards.
He ranks 13th in career scoring with 158 points despite having missed his senior season in 2010 because of an injury.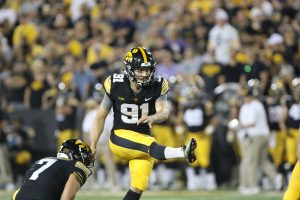 8. Miguel Recinos, 2015-18 – The Mason City native was good enough to have been the starting kicker for two seasons over Keith Duncan in 2017 and 2018.
Recinos led the team in scoring with 98 points in 2018, including 47-47 point-after kicks and 17–22 field goals.
He scored 180 career points to rank 14th in career scoring; made all 93 career PAT attempts; connected on 11 straight field goal attempts between games three and 11 as a senior; ranked second in the Big Ten and 43rd nationally with 98 points in 2018, and seventh in Big Ten in field goal percentage (77.3 percent).
He also drilled a 41-yard field goal through a driving rain as time expired to lift Iowa to a 31-28 victory over Nebraska in 2018.
7. Kyle Schlicher, 2004-06 – Faced with the daunting task of replacing All-America kicker Nate Kaeding in 2004, the Ankeny native handled the pressure in impressive fashion.
Schlicher made 21 field goals in 2004, including a five against Minnesota to set a program record. He scored 17 points in that game against Minnesota, which set a program record for kicking points in a single game.
He made second-team All-Big Ten in 2005 after having led the Big Ten in field-goal percentage that season.
He also finished his career with 260 points to rank fifth on Iowa's all-time scoring list.
6. Mike Meyer, 2010-13 – The Dubuque native finished his career with 324 points to rank second on Iowa's all-time scoring list.
He is one just two kickers in program history to score at least 300 points for the Hawkeyes.
He converted 19-of-21 career field goal attempts in the fourth quarter (16-18) and overtime (3-3), and he ranks second in career field goals with 61.
He also ended career with 122 consecutive PATs to set a school record (previous was 60 by Nate Kaeding). That streak ranks sixth best all-time in the Big Ten and was the fourth longest current active streak in 2013.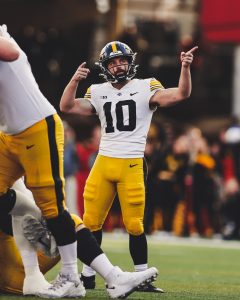 5. Caleb Shudak, 2016-2021 – The Council Bluffs native had to wait five seasons behind Keith Duncan and Miguel Recinos before finally getting his chance.
But it was worth the wait as Shudak had one of the best seasons ever for an Iowa kicker in 2021.
He made 24-of-28 field-goal attempts last season, and all 36 of his point-after kicks. He also made 4-of-6 attempts from 50 yards or more.
He was named third-team All-America by the Associated Press last season and was a Lou Groza Award semifinalist.
4. Tom Nichol, 1981-84 – The Wisconsin native, in addition to being Iowa's fourth all-time leading scorer with 277 points, also endeared himself to Hawkeye fans by scoring all of Iowa's points in a 9-7 victory at Michigan in 1981.
Just a freshman at the time. Nichol made field goals from 20, 36 and 30 yards as Iowa prevailed in Ann Arbor for just the fourth time in program history.
Iowa would go on to win the Big Ten that season and play in the Rose Bowl for the first time since 1959.
He also led Iowa in scoring in each of his four seasons in the program.
3. Rob Houghtlin, 1985-87 – The Illinois native started his career at Miami (Ohio) before transferring to Iowa in 1984 as a walk-on.
His decision to transfer would go on to pay huge dividends for himself, and for the Hawkeyes as Houghtlin made first-team All-Big Ten as a sophomore and as a senior.
But as impressive as it was to have twice made first-team all-conference, Houghtlin is known more for having made arguably the biggest field goal in program history.
His 29-yard field goal as time expired lifted No. 1 Iowa over No. 2 Michigan 12-10 on Oct. 19, 1985 at Kinnick Stadium. It was Houghtlin's fourth field goal in the game as he would go on to make 19 field goals that season.
Houghtlin had a knack for making game winning field goals as a Hawkeye.
His 25-yarder with 1 minute, 8 second left to play helped Iowa edge Purdue, 27-24 in 1985.
His 37-yarder with no time remaining gave Iowa a 30-27 victory  over Minnsota in 1985.
His 41-yarder as time expired lifted Iowa over San Diego State 39-38 in the 1986 Holiday Bowl.
And he made three field goals to help Iowa edge Arizona 15-14 in 1987 in Tucson.
2. Keith Duncan, 2016-2020 – The North Carolina native earned consensus All-America honors as a junior in 2019, and was one of three finalists for the Lou Groza Award,
He set a Big Ten and an Iowa record with 29 made field goals in 34 attempts in 2019. His 29 made field goals ranks sixth best all-time in NCAA history.
He also made last-second field goals to defeat Nebraska and Michigan during his career, and he connected on four field goals in wins over Iowa State and Illinois.
He was just a freshman when he made the game-winning field goal against Michigan in 2016.
But then he lost the starting position to Miguel Recinos and chose to redshirt in 2017 before seeing no game action in 2018.
Duncan handled the demotion with class, and when it was his chance to be the starting kicker again, he seized the opportunity.
He finished his career with 252 points to rank sixth on Iowa's all-time scoring list.
Nate Kaeding, 2000-03 – The Iowa City West graduate was there almost from the very beginning under Kirk Ferentz, a member of his second recruiting class in 2000.
In fact, Ferentz thought so much of Kaeding that he offered him a scholarship coming out of high school, whereas many kickers start college as walk-ons.
Kaeding showed his gratitude by becoming arguably the greatest kicker in program history.
He won the Lou Groza Award as the nation's top kicker as a junior in 2002, and he was named a consensus All-American in 2003.
He also twice made first-team All-Big Ten, was selected as a permanent team captain for special teams and was a recipient of the Hayden Fry "Extra Heartbeat" Award.
He ended career in 2003 as Iowa's all-time leading scorer with 373 points, a record that still stands to this day.
Also considered: Marshal Koehn, Brion Hurley.